Travelling by plane with a bike is a very unpleasant experience. Our choice of bikes has been influenced by this fact. Maybe because I started riding adult bikes in the early 90's, I have a predilection for mountain bikes from that era. And those bikes happen to be quite suitable for bicycle touring. They have sturdy steel frames, rigid forks that need no maintenance, very simple drivetrain and brakes, and usually allow to install racks.
With all the above points in mind, our bikes are a Scott Windriver and a Trek 820, both bought used, completely overhauled, and with the plan of selling/donating them at the end of the trip so we won't have to deal with bringing them into our return flight. In all cases, and to keep costs low, whenever something has been swapped, the removed part has been sold. I've also tried to installed recycled parts I already had or buy used.
Jose's bike: 1991 Scott Windriver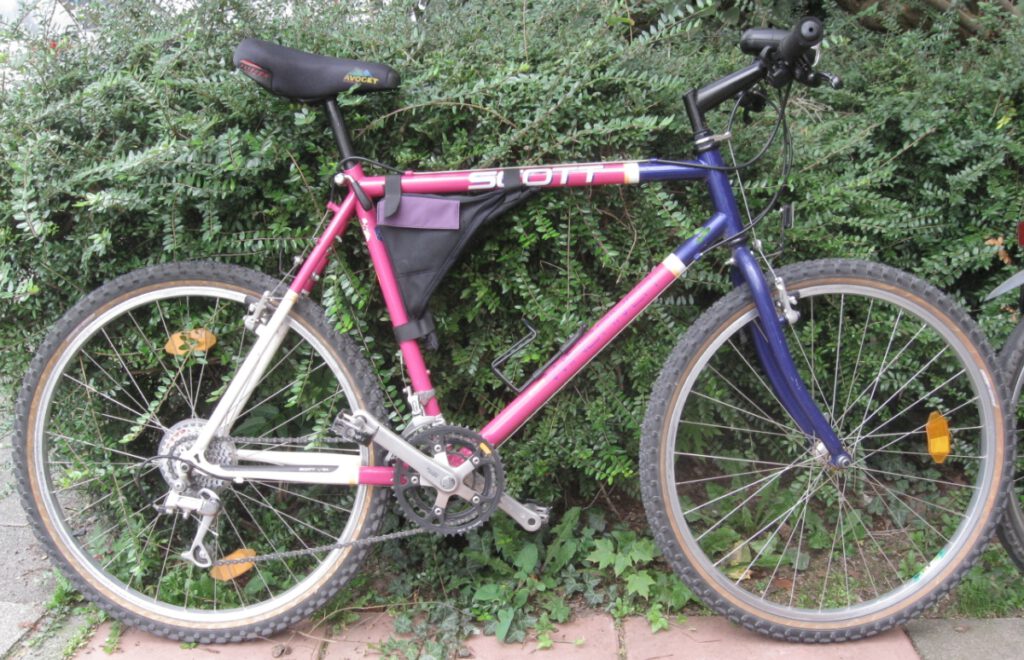 I bought this bike used for 75 euros in a village outside Darmstadt. The owner got it when mtbs were in fashion but he quickly realised it was not his thing so the bike had mostly original parts and very little use. I completely dismantled it, overhauled, and built it back.
Specs:
Tange Infinity steel frame, Spinergy rigid fork
Drivetrain Shimano Deore DX 3×7, cantilever brakes
Araya RM-7 rims, 32 spokes, Deore DX hubs
Changes that were needed:
new tires: the original ones were rotten from being on storage. I put some Schwalbe Marathon Mondial 26×2.0 tires (wire type) that I already had in another bike. A touring classic
new rear wheel: the exisiting one was 7 speed only, but to get wider gearing I needed at least 8 speed. When I went to replace it I realised the spacing was the old 130mm standard, so I had to cold set the frame to 135mm, luckily something possible thanks to the steel frame. I then bought a ready built wheel with Deore LX hub and Ryde Andra 40 rim with 36 spokes.
swapped the brakes from DX cantilevers to Deore v-brakes that I already had. I also had to swap the levers but had some v-brake specific from a donor bike.
swapped the shifters from the 3×7 Deore DX to some Alivio 8 speed and a vintage Deore Thumb shifter that I already had. Now that brake levers and shifters are separate so I can mix and match when something goes wrong.
swapped cassette from 7 speed 13-30t to 8 speed 11-34 to lower the gearing
swapped crankset from 46-36-24 to 42-32-22 to lower gearing. The new crankset also includes a chainguard to protect when riding with long trousers
Upgrades to make it touring-suitable:
Rear and front rack from Tubus
Oversize bottle cage and M-Wave adapter for 2 parallel bottle cages
SKS full mudguards
B&M mirror, Pletscher bike-stand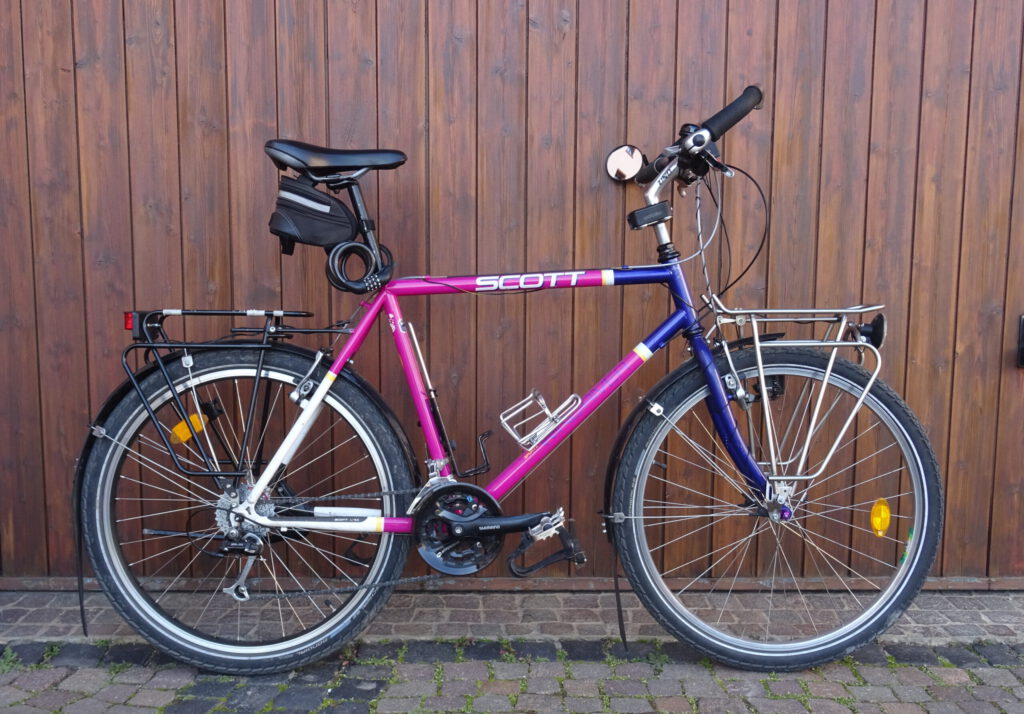 Susanne's bike: 1993 Trek 820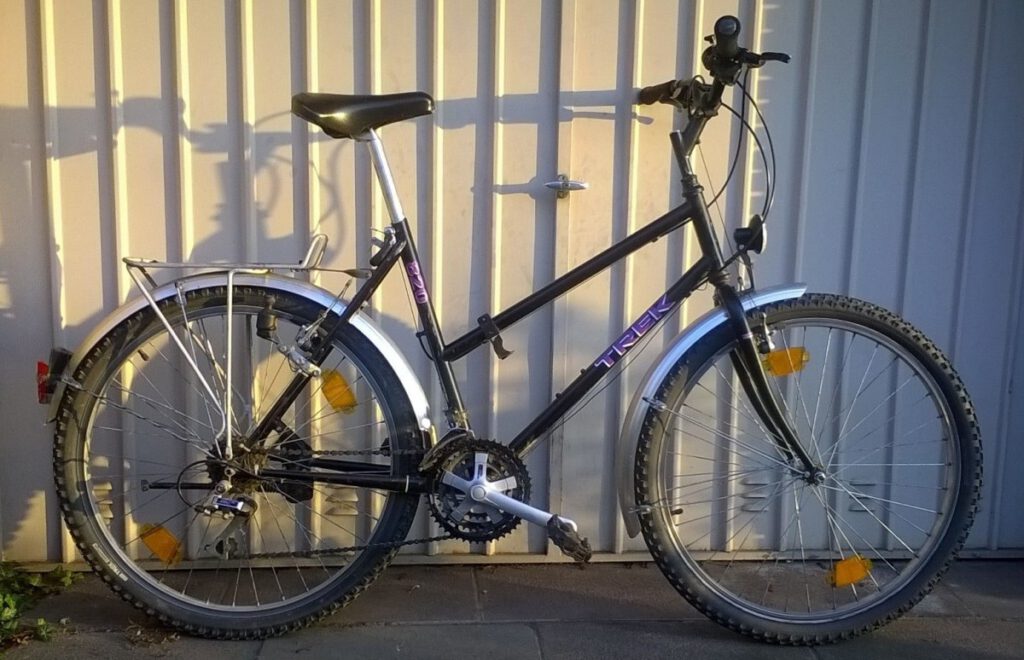 I also bought this bike used in Darmstadt for 40 euros. Susanne wanted a step-through frame to go to the office, but since we were already thinking about this trip, I wanted to find a 26″ bike so we could both ride the same bike type and share spare parts. It's not easy to find step-through 26″ bikes with decent quality and in a frame big enough for Susanne, so when this one came up I bought it immediately. This bike was well used but taken care of, and even though is in the low range of Trek for that year, it still has decent frame and components.
Specs:
Tange MTB steel frame with Trek chromoly rigid fork
Shimano Altus C10 3×7 drivetrain and cantilever brakes
Araya RM-20 rims on Exage hubs
Changes needed:
New wheels front and rear. Susanne is a bit tough on wheels so we needed something stronger than the original single-walled rims. Both wheels are now Ryde Andra 40, 36 spokes, with Deore front and Deore LX rear hubs.
New tyres: folding Schwalbe Marathon Mondial 26×2.1 (now discontinued) in folding version.
Swapped the cantilever brakes for unbranded v-brakes from a donor bike. That also required specific v-brake levers again from a donor bike.
Swapped the shifters from Altus 3×7 to modern 3×8 Alivio. As with the Scott now shifters and levers are independent and can be swapped individually if something breaks.
New crankset to lower gearing from 48-38-28 to 42-32-22 with chainguard
Other touring specific changes:
Rear and front racks from Tubus
SKS full mudguards
Pletscher bike stand, Ergon grips