Going to the biggest and most diverse island
After our four days in Santa Cruz, we had decided to visit Isabella. Galapagos has many islands, all with their own attractions, like endemic species, good diving spots, etc. We liked Isabella because, being the biggest, had some of the most diverse fauna, and that is what the kids liked the most. The journey from Puerto Ayora to Puerto Villamil, the main harbour in Isabella, is two hours, which gets long and boring after a while, but at least the trip was early and not too warm.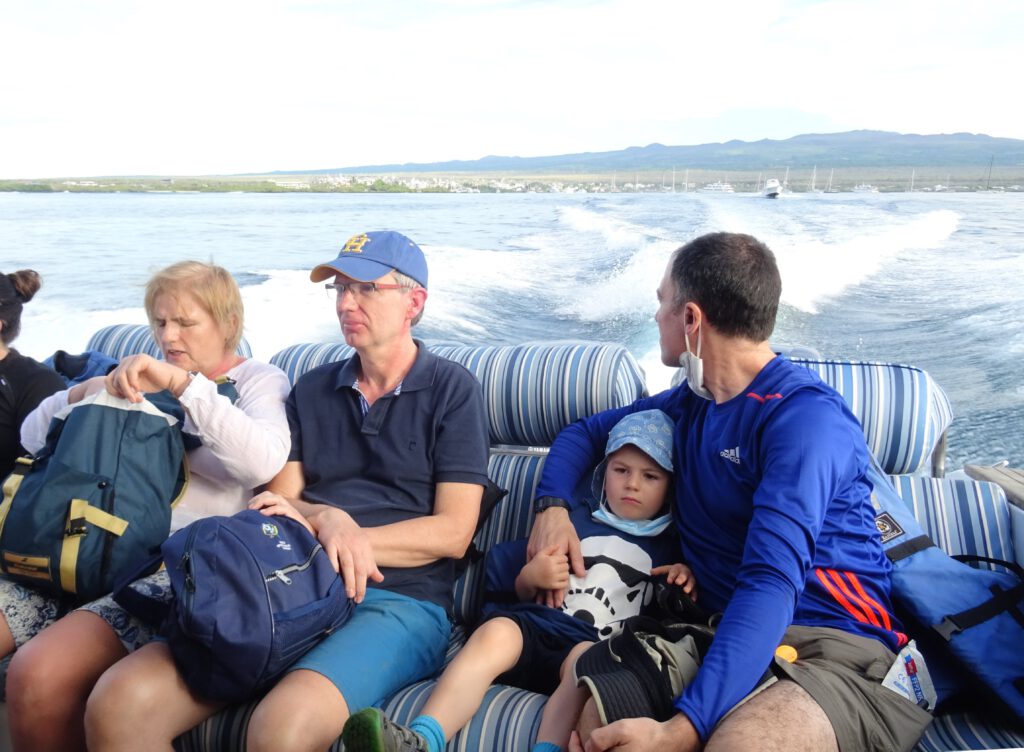 Puerto Villamil is very quiet, just a little more than a village, with a very relaxed atmosphere. After we rested a bit in our hotel and avoided the worst hours of heat, we went to the nearby beach. A family of Italians with two small children was in our hotel, which gave us encouragement on travelling with kids. On the way we got to see our first flamingos in the Poza de los Flamencos.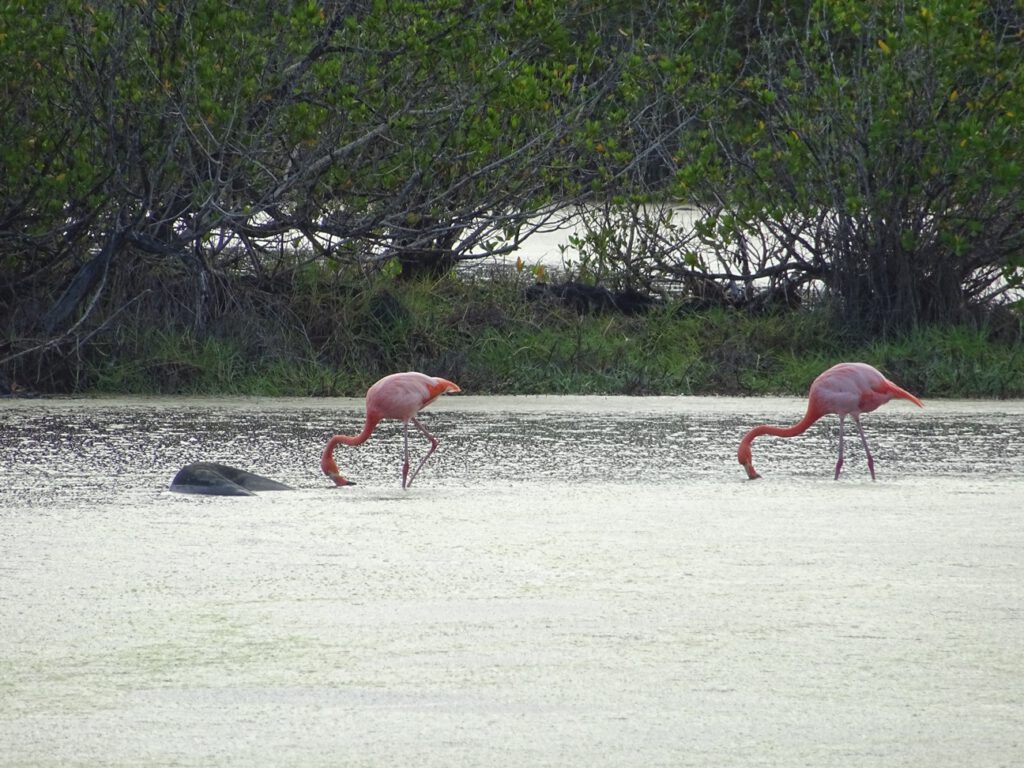 We were nearly alone in the beach and the kids had a great time, although the water was not very safe to swim as it is open sea and the currents are quite strong with big waves.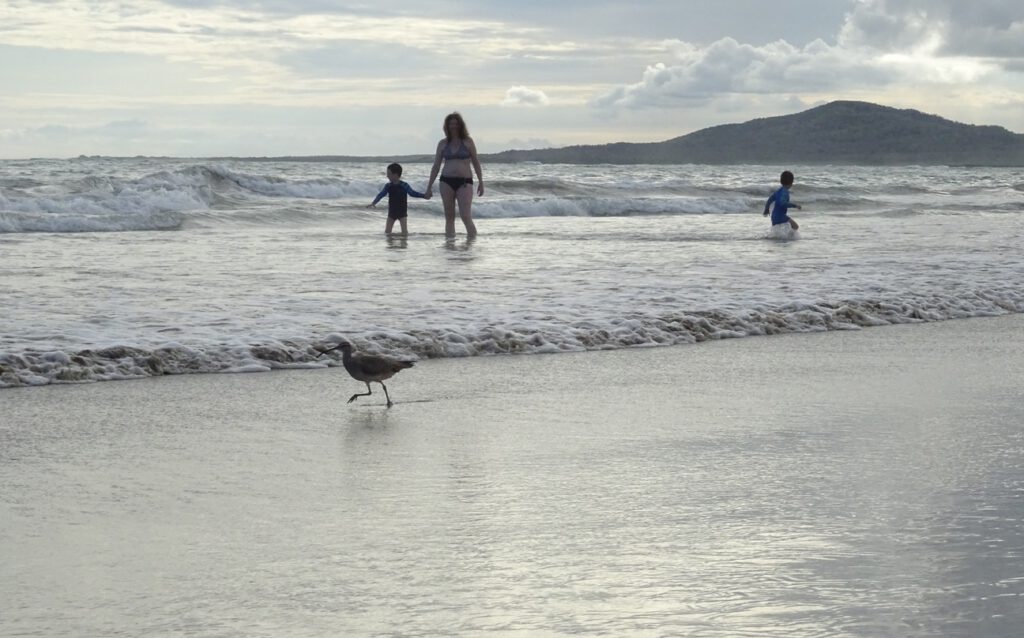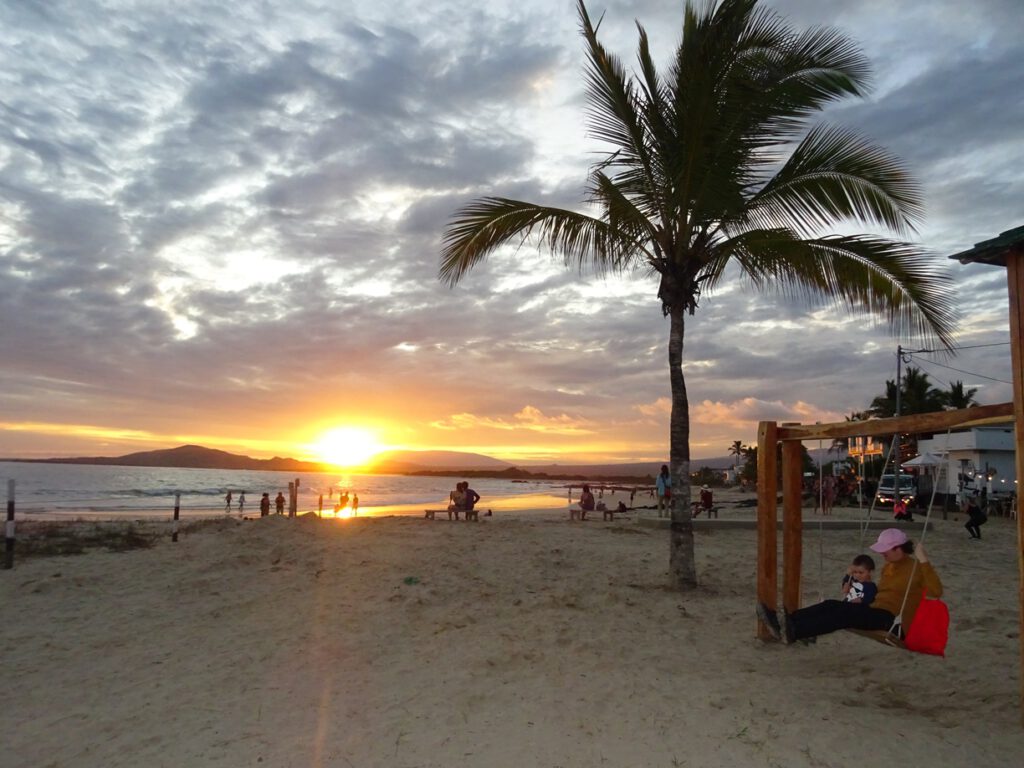 The next day we rented some bikes and went up to the Wall of Tears, a popular side trip where you get to see many beaches, turtles and lagoons with birds, all along the coast. Simon wanted to have his own bike, so we took a while until the shop owner found one to fit him, and I spent another 15 minutes getting his brakes to work. All this effort was not very productive as after about 1.5km Simon decided it was too tiring and jumped into the child seat mounted on my bike, so we locked his bike next to a bar.
We had planned to cycle to the end and then do all the stops on the way back. The day was very hot, so when we arrived at the end of the ridable path, Susanne stayed with the kids while I climbed to the nearby viewpoint.
Unfortunately, on the meantime Simon got a heatstroke, so he puked twice. Susanne got scared and asked some other visitors already on their way back to call an ambulance. She also got some extra water as ours was slowly running out.
I came back and it was clear it was not too bad, as he was conscious, drinking, and laughing, but we decided to wait for the ambulance. Shortly afterwards, the national park guard came with his motorbike to check on us, and offered to take Simon back to the furthest place cars can reach, so we could take a taxi. Thomas quickly decided to join the ride, and both enjoyed their first ever motorbike trip! Susanne and me followed them on our bikes. The ambulance was on their way and picked the kids and Susanne, while I cycled all the way back while "ghost riding" the other bike.
In the local hospital they said it was nothing serious but he should rest for the day so that is what we did. He was already fully ok and did not want to drink the salts they had given us for rehydration. Luckily health care in Galapagos is free so we didn't have to do any paperwork with our insurance.
The trip back to Santa Cruz island was the next day in the afternoon, as the early morning ride was sold out. That worked in the end in our favor as we could then book a tour to the nearby Tintoreras isle, which promised a lot of animals sightseeing.
The tour was a success for the kids, as we saw penguins, golden rays, eagle rays small sharks, sea turtles, blue boobies and many others. They even got their first taste at snorkeling!
The trip back to Santa Cruz was very hot and we were all covered in sweat and happy to arrive. We went back to the same hotel of the first few days and next day we flew back to Quito. Our next destination now will be Cuenca!