Getting close to the Equator
Today the day should be a doable one. First we need to climb about 300 mts to get out of Otavalo, in 16 km, and then downhill again for another 15 km down to Cayambe, a town that claims to be on Latitude 0'00".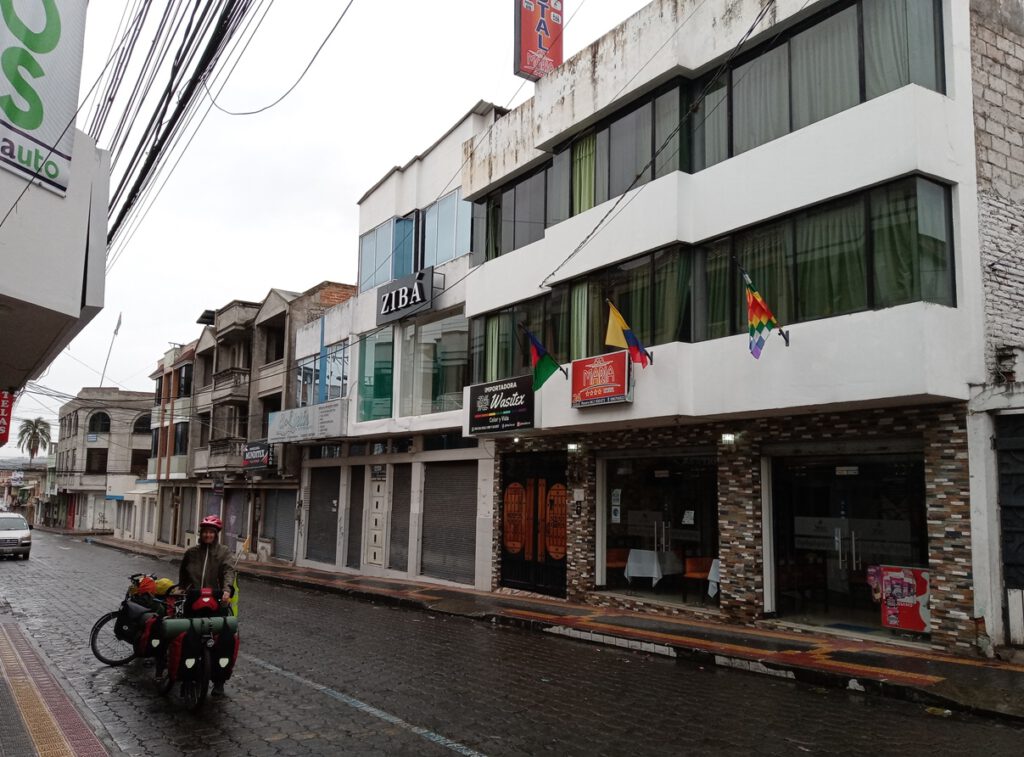 The start was not an easy one. It's never nice to start climbing right after breakfast, and on top of that it was raining. It was a light rain, but the one that after 10 minutes on the road soaks everything. We had a couple of nasty dogs barking as we were passing by, which is a trademark of South America, and particularly bad in Ecuador.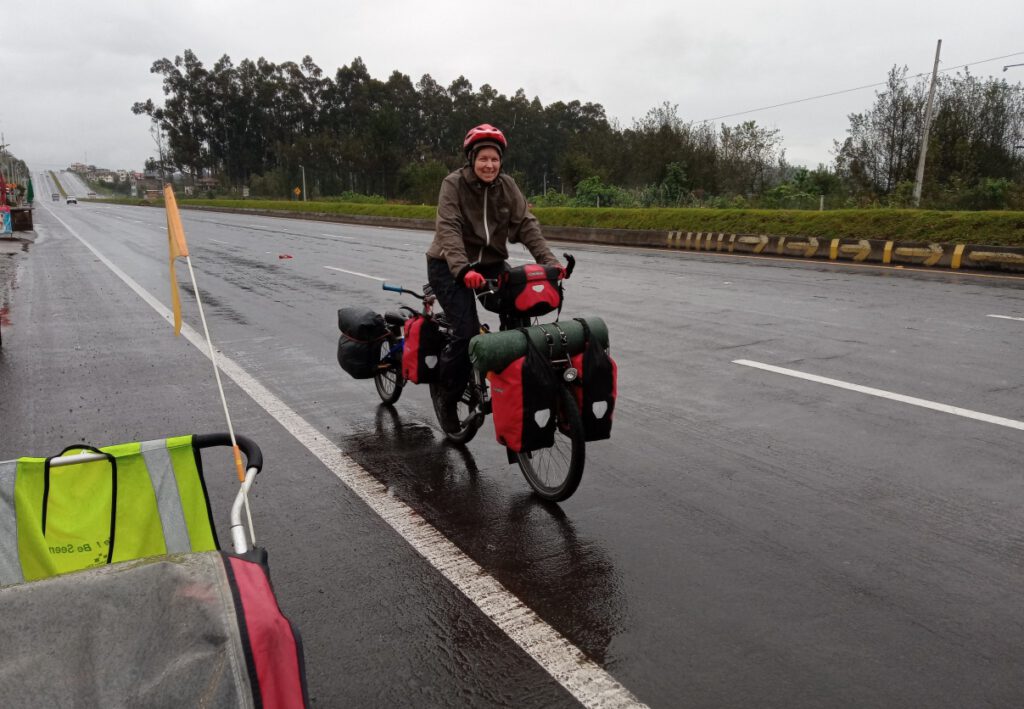 After the first long climb there was a flattish area where we stopped to take a break from the rain. Since it was not cold I had used a plastic poncho, and Susanne quickly swapped it with me as she was roasting inside her rain jacket. The kids played for a while until the rain was much milder, and then we continued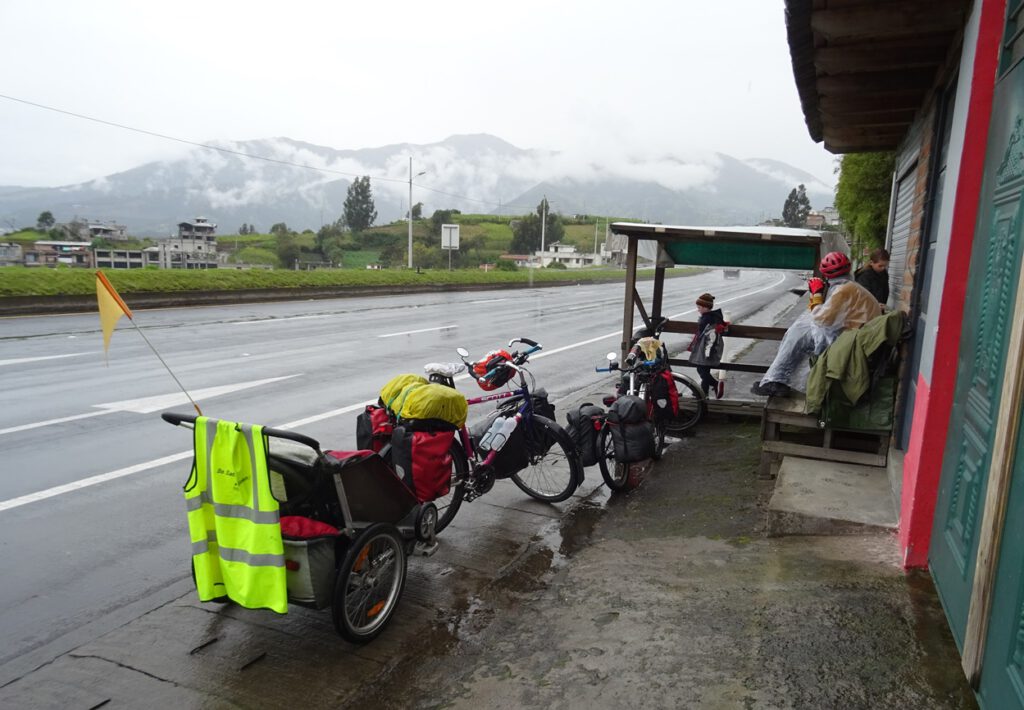 Luckily the rain finally stopped, but the climb got tougher rather than easier. The Ecuatorians have invested a lot on the roads, so they can cut through the mountains, which makes for shorter trips for cars, but much steeper climbs for the cyclists.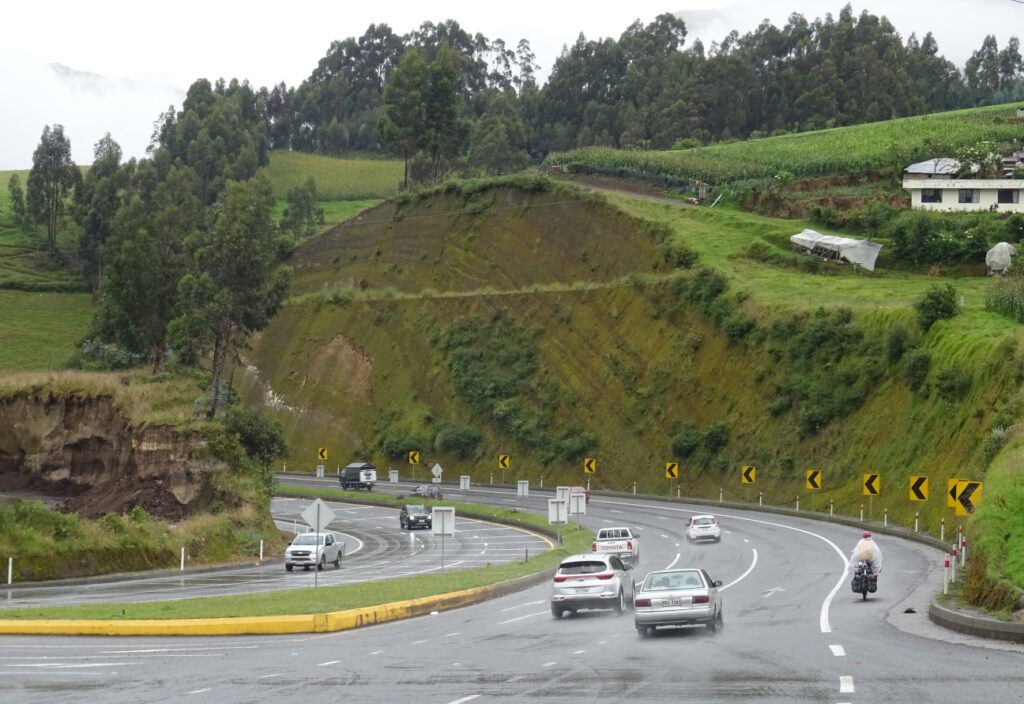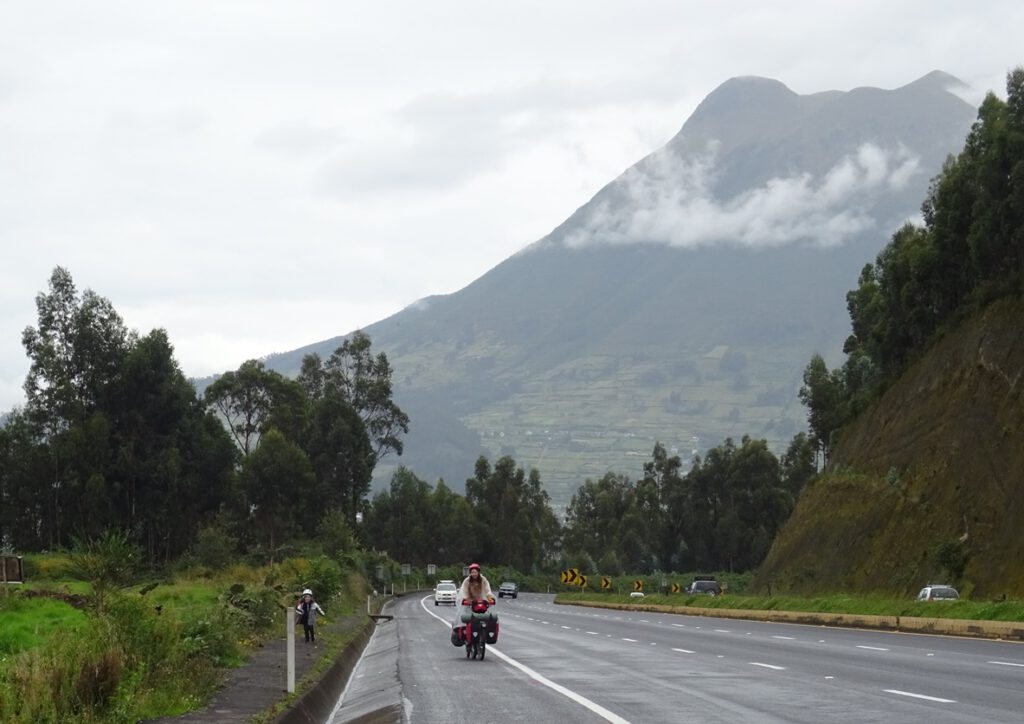 At the top of the climb, in the border between Imbabura and Pichincha provinces, there are dozens of restaurants all offering the same, hot chocolate with bizcochos and cheese. We stopped in one about 800 mts before the summit, and relaxed looking at the landscape from inside the big windows.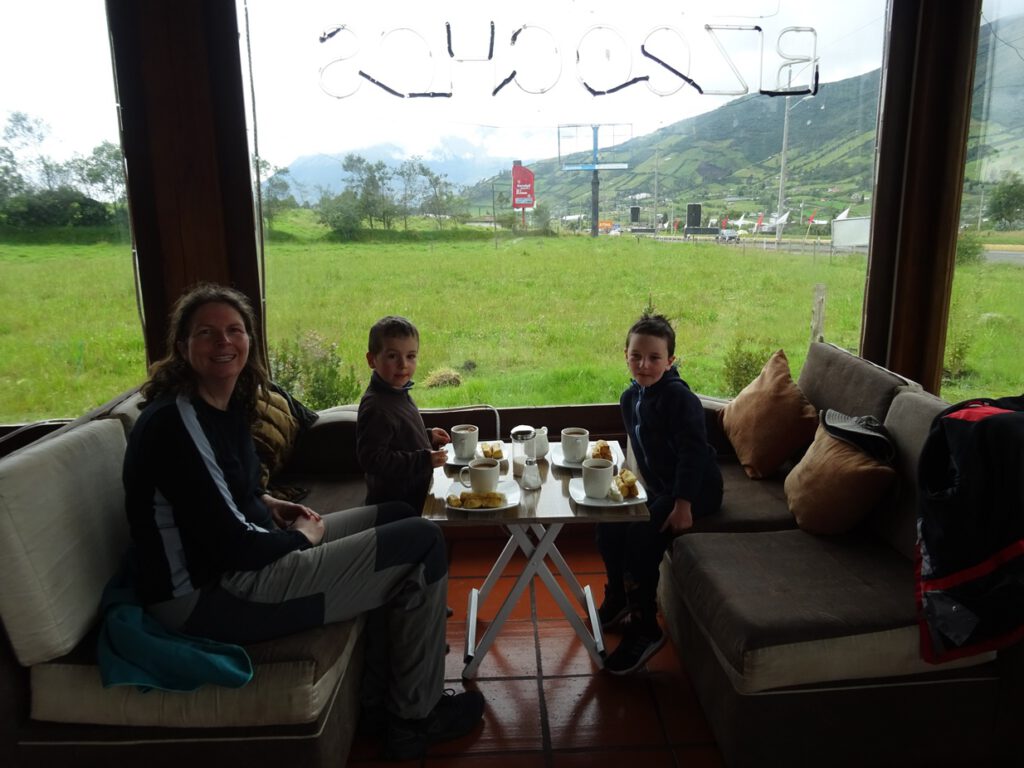 The kids loved the chocolate, not so much the bizcochos but the adults quickly ate them. Thomas loved the soft cheese. Outside there was a playground, something not easy to find in villages, so the kids took advantage from it. Playgrounds are saviors for cycletouring parents as the kids can burn a bit of energy while the parents rest.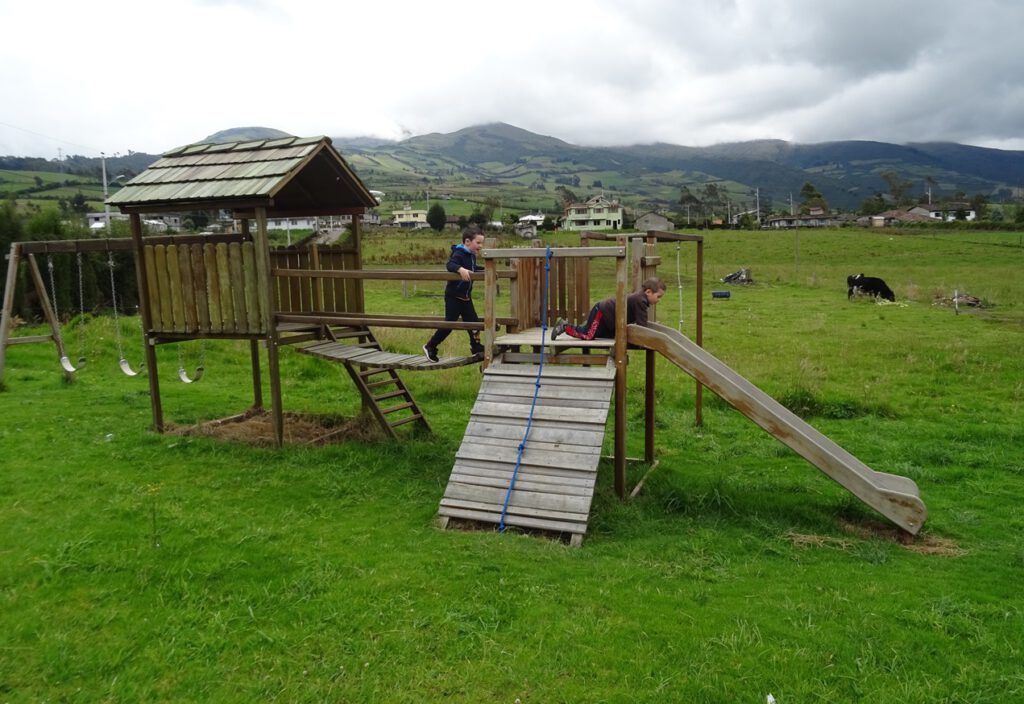 Unfortunately we stayed a bit too long and the dark clouds were coming back, so we climbed the remaining meters and without stopping we started the downhill towards Cayambe.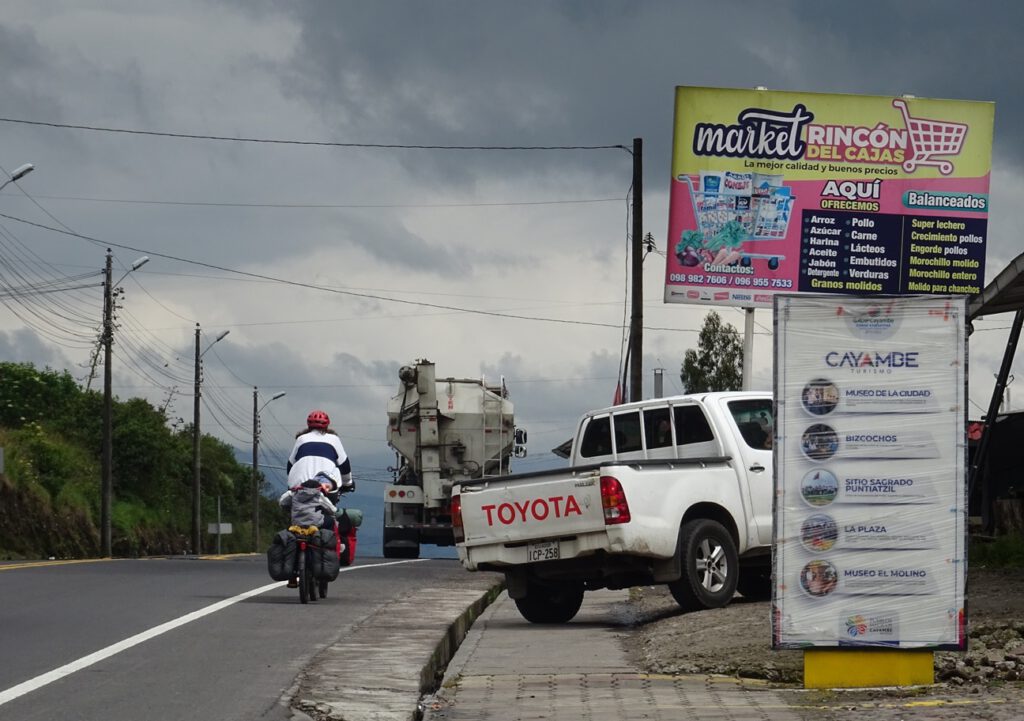 The valley below looked like full of mirrors, until we realised there were actually plastic greenhouses. We later learned that this valley is famous for its flowers, mostly roses, that are sent to Quito and around the world.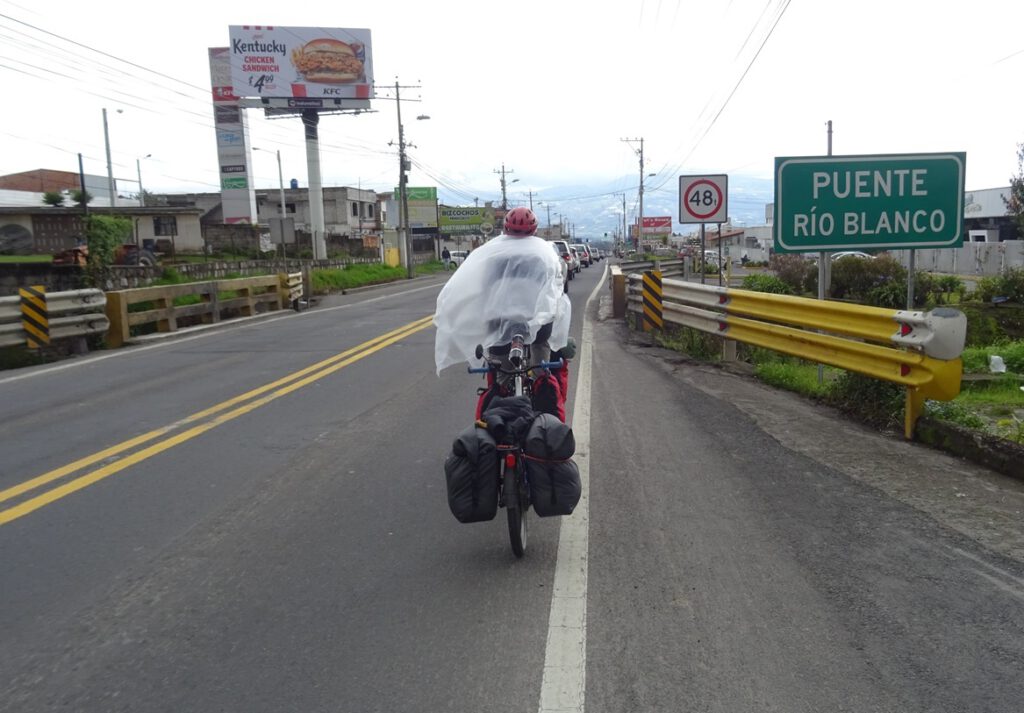 The downhill was a nice one, long and progressive without much need for braking, and we were quickly in Cayambe. The town is not particularly nice, so we didn't need accommodation near the city center. Towards the outside on the south side we first tried one but it was too expensive, so we swapped to another that was slightly cheaper and much nicer, Hostal El Sol, which was very clean.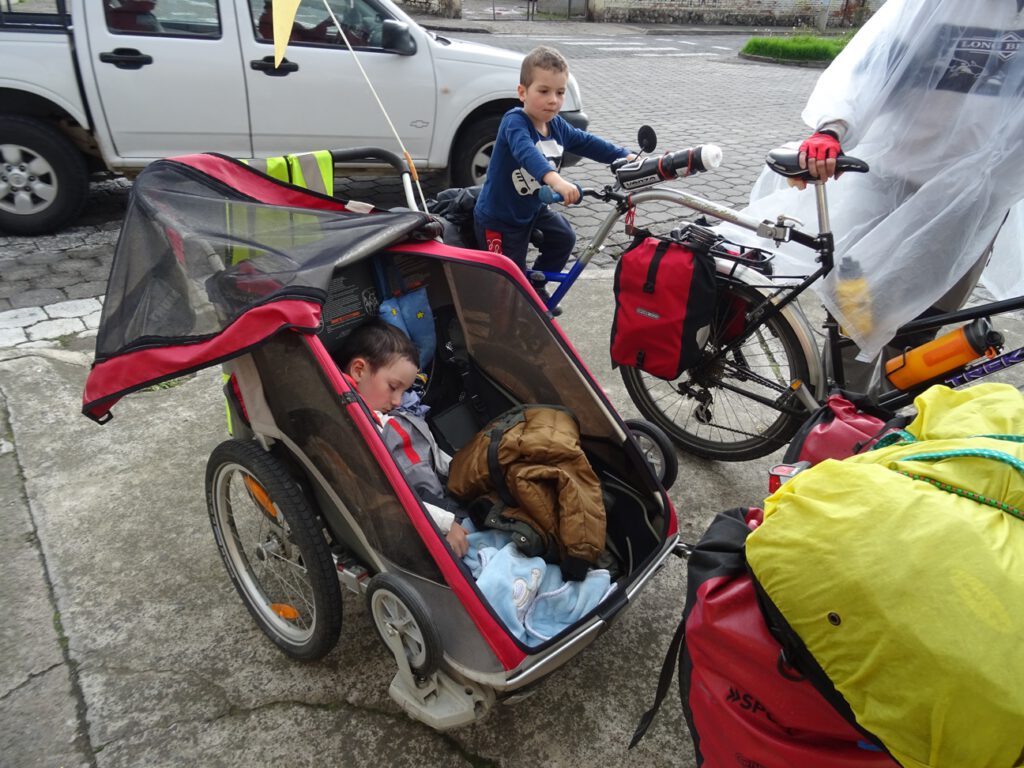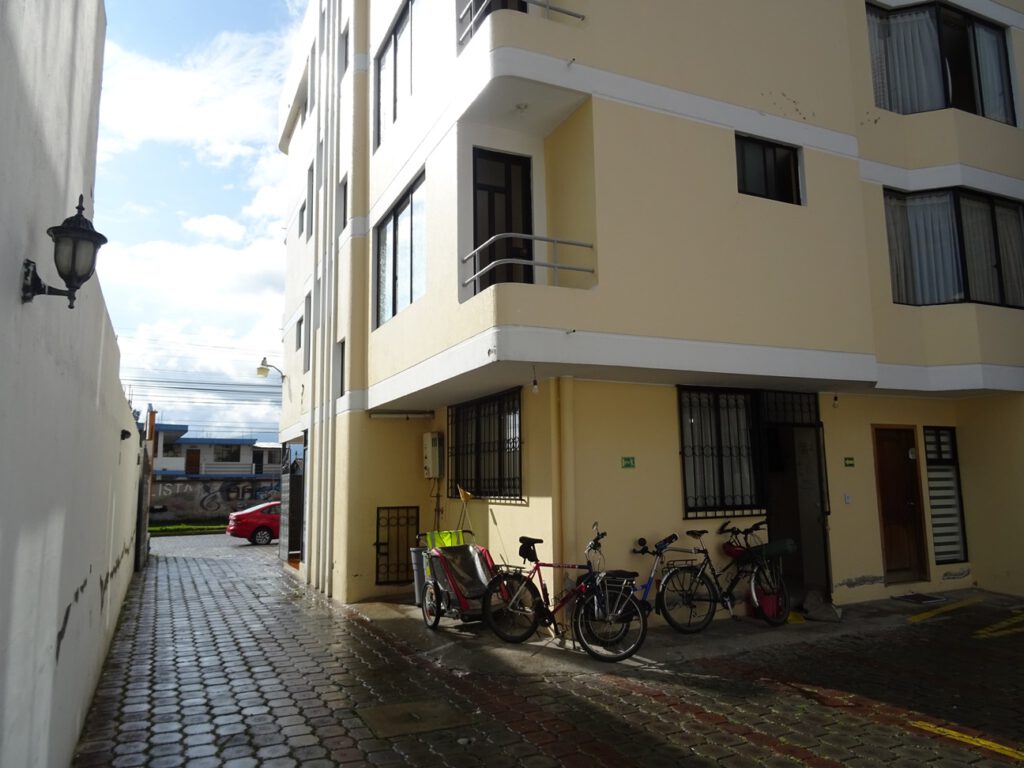 For dinner, we went to a roasting chicken place since the kids were amazed at the rotating grill. We met there a couple that told us about the flowers, local limonades, and a few more things, before going back to the hotel for our usual dose of TV cartoons, reading, and bed. Tomorrow hopefully we'll cross the equator, barely 6km south of Cayambe