Into a new country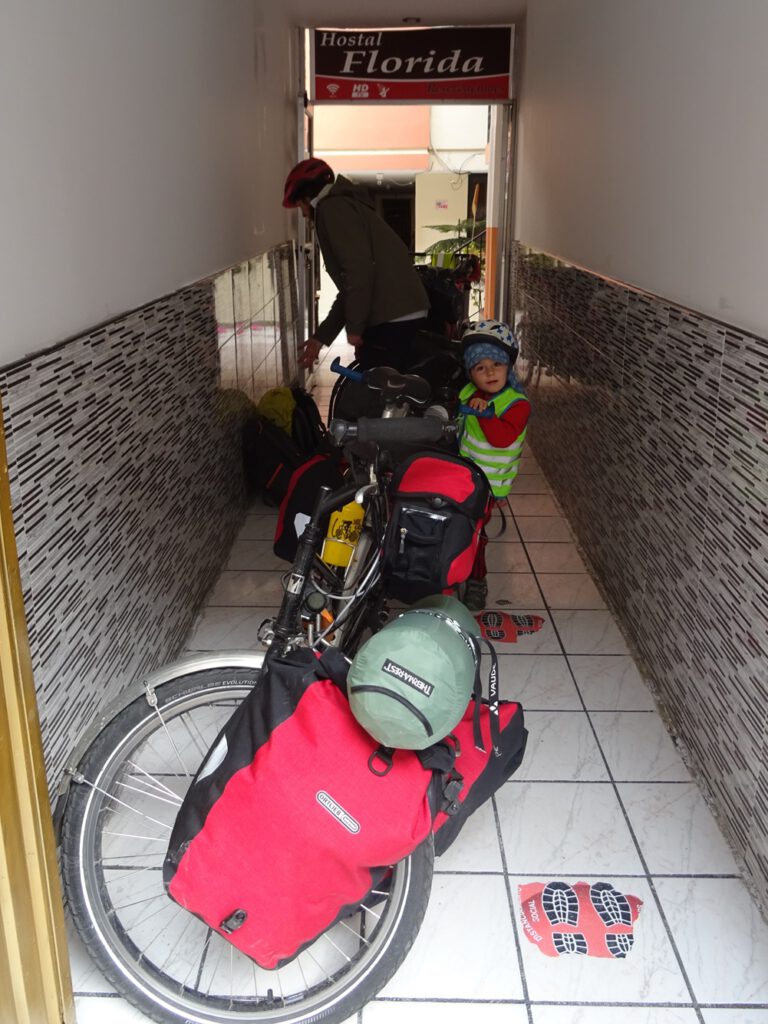 Rubén back in Ipiales had warned us that Ecuador had great roads, with plenty of room for cyclists, but the climb into Ibarra was a tough one. Susanne did not need to hear more, so the decision to take yet another bus was quickly made. Luckily Tulcán has a very well served bus station with destinations nearly anywhere.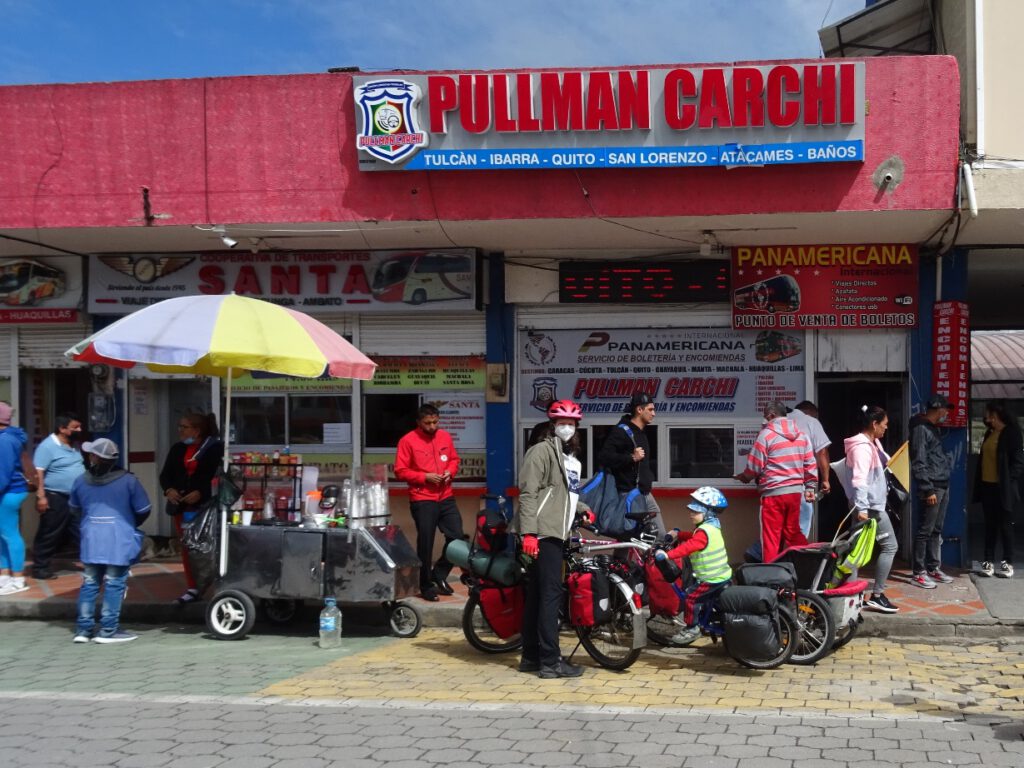 After checking different recommendations we decided to go to Otavalo. We would avoid the climb to Ibarra and Ibarra itself, which seemed to be just a big city, and Otavalo is famous for its great market, specially on Saturdays, which would be tomorrow! So Otavalo it was.
The trip is not a long one, 150 km in about 3 hours, (which would mean 5 days cycling for us!) but we got delayed at the beginning by a police control. The guys seemed to be specially interested on our bikes, but in a positive way. The first 2/3 of the trip is easy going, mostly flat or downhill, but the last bit is a long climb to Ibarra. The road is big but with heavy traffic and it was raining, so we were happy in our bus. Before Ibarra there's a very nice lake, Laguna Yahuarcocha, but Ibarra itself didn't seem very inspiring, although it's on a great location next to Volcan Imbabura.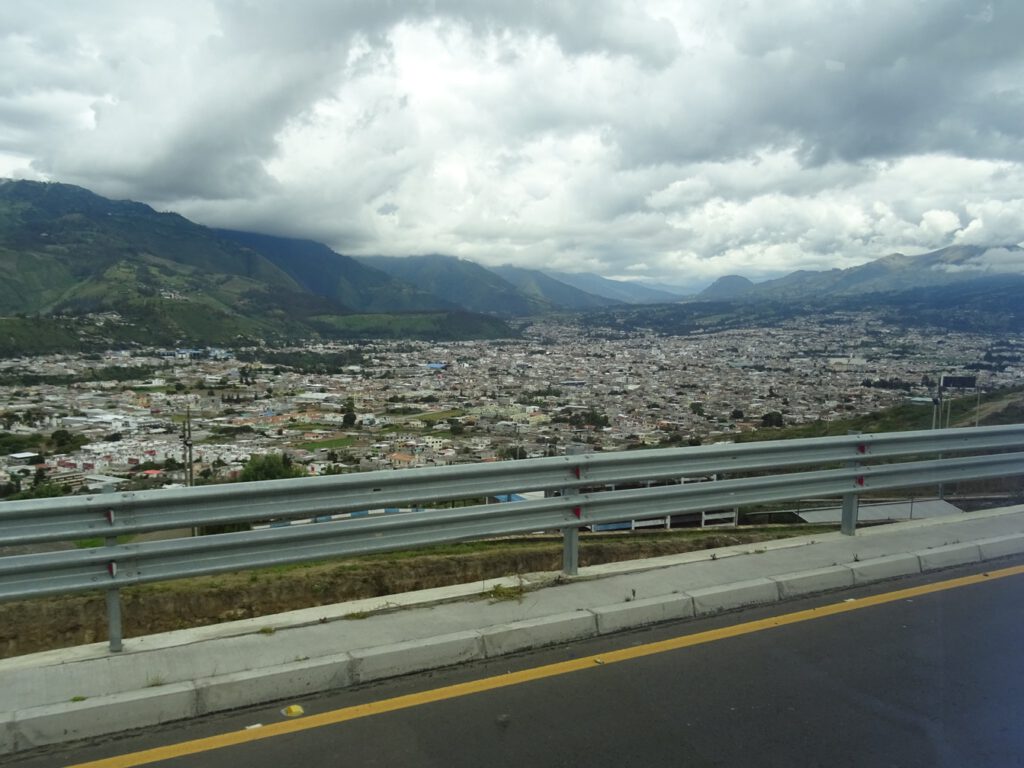 The bus was continuing to Quito, so they dropped us at the entrance of Otavalo and not on the bus station, so we had to build the bikes on the side of the highway and continue on.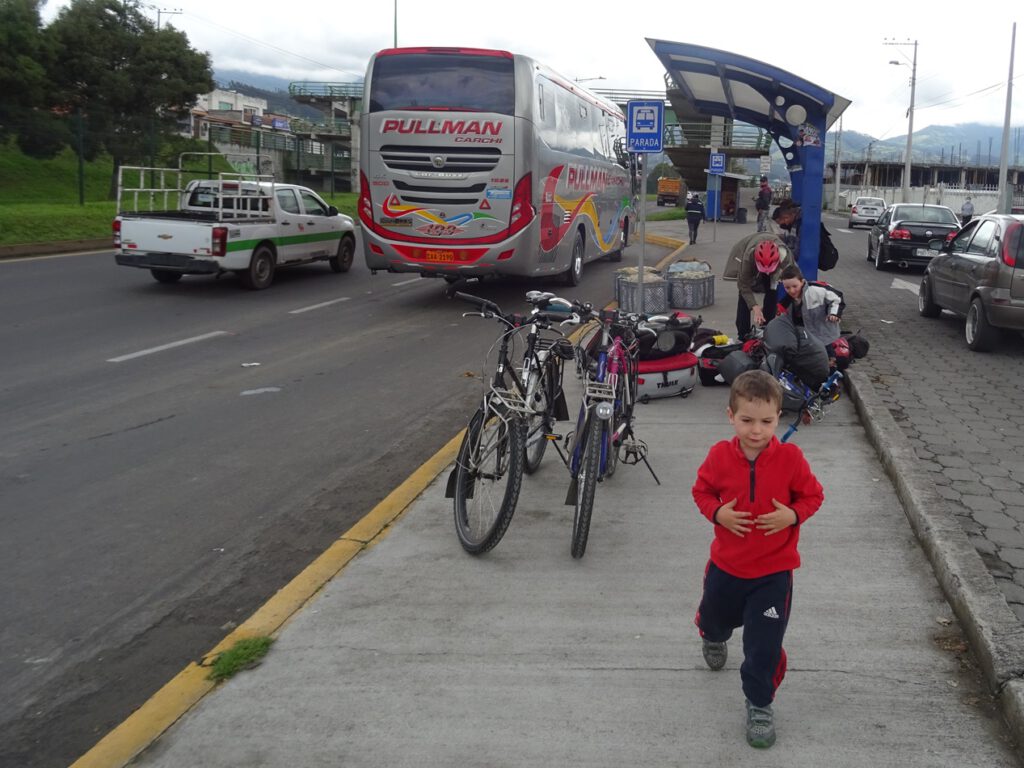 The hotel we had chosen had some uncomfortable stairs and was not that cheap, so we decided to go for lunch first, and review our options. Asking in the restaurant, the guy recommended Hostal Maria, just around the corner, which happened to be a great option. It had an innen patio for the bikes, a great location, good price and a big room. We still had to go up two floors, but you can't have it all.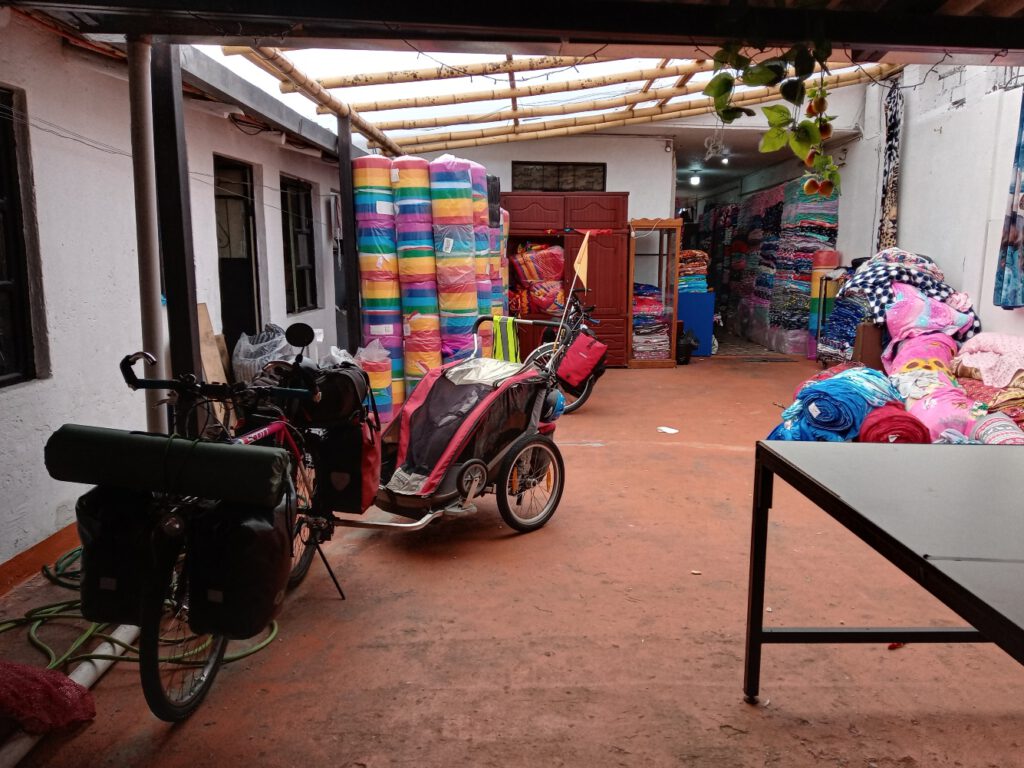 We enjoyed Otavalo. Very safe, loads of cheap restaurants to choose from, also Western options for anyone missing pizza or pasta, cinema,… For a change, the city has wide footpaths and the cars seem to be under control and are not the owners of the streets.
The Otavalo Market
Next day, Saturday, was the big market day. Already at around 5:30 in the morning we could hear the sellers preparing their stalls, vans coming and going bringing the goods, and already some customers looking for an early deal.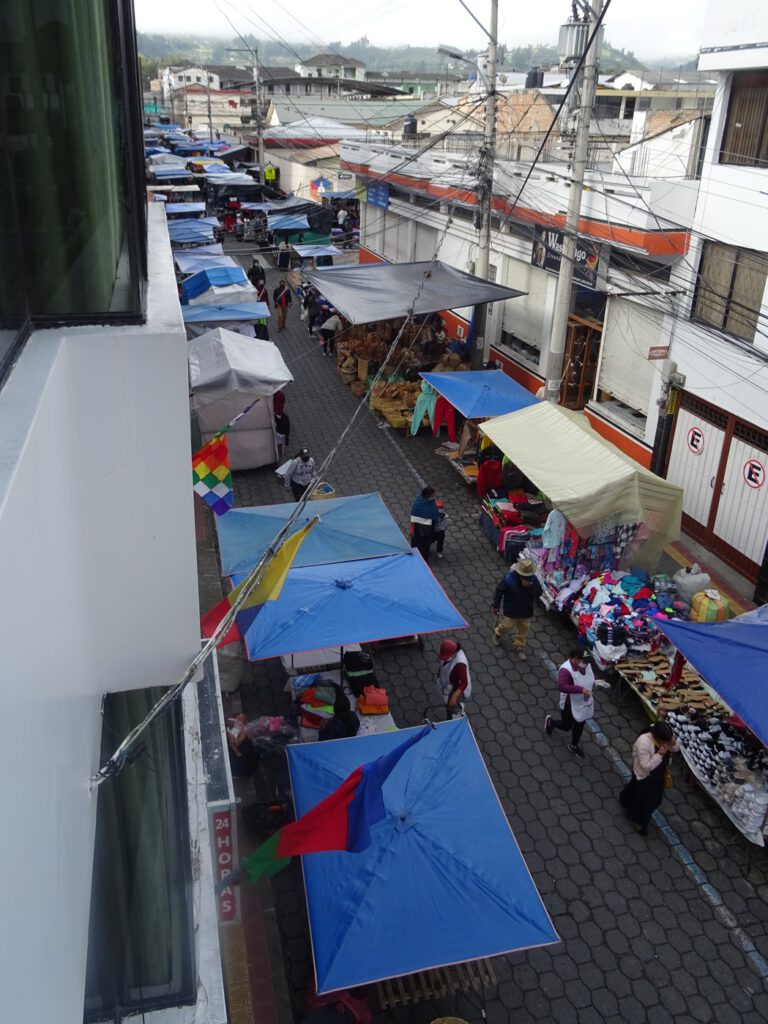 The market sells mainly 3 things:
the usual stuff you find in many markets: fake sport runners, perfumes, mobile phone accesories, plastic toys,… and many, many cotton colorful blankets. They were mostly on the outer side of the market
food market: all kinds of vegetables, mostly local but also some imported, at very good prices. In many cases, the food is pre-packed to achieve "round prices" so you get X tomatoes for 1 dollar, or just one pomegranate, or 5 avocados, and so on.
the proper "indigenous" market, with their colorful lama wool blankets, jackets, pullovers, hats, etc. They occupied the central area, in a square, Plaza de Ponchos.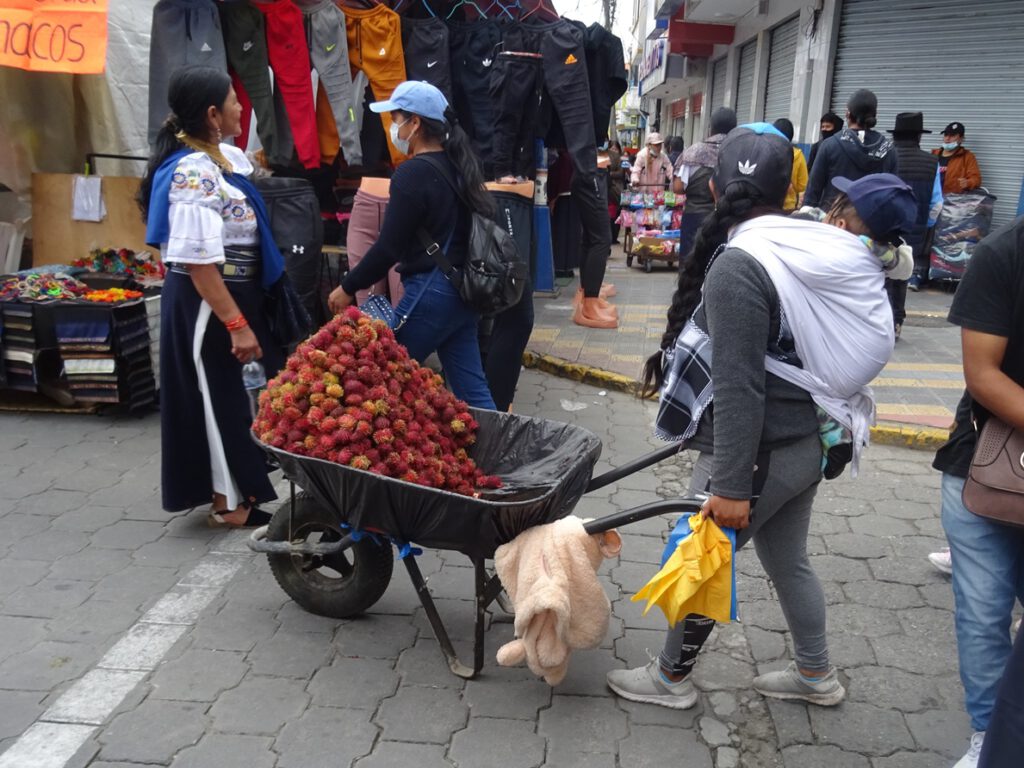 Apart from that, there were numerous sellers of food, snacks, drinks, ice cream… Ecuatorians seem to be like the Chinese. They never have big meals, but they seem to be constantly eating something.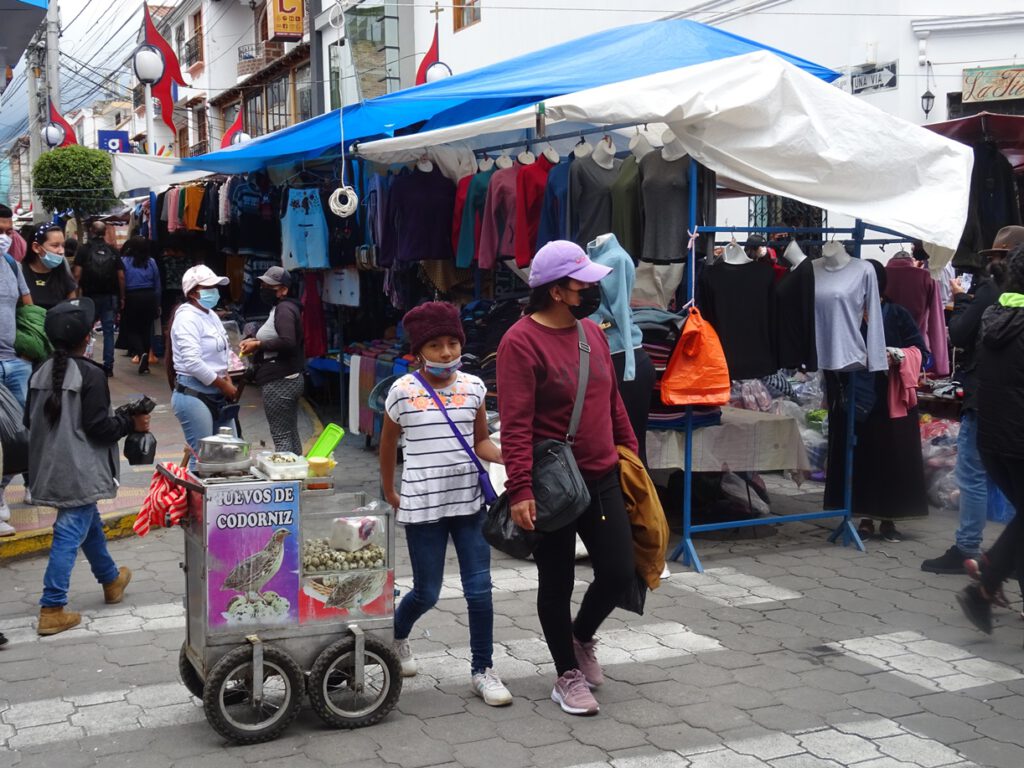 Since we are carrying everything ourselves, we could not buy any souvenirs or presents, so we just bought some fruits (apart from the juice you hardly get any fruit in restaurants) and some presents for the kids.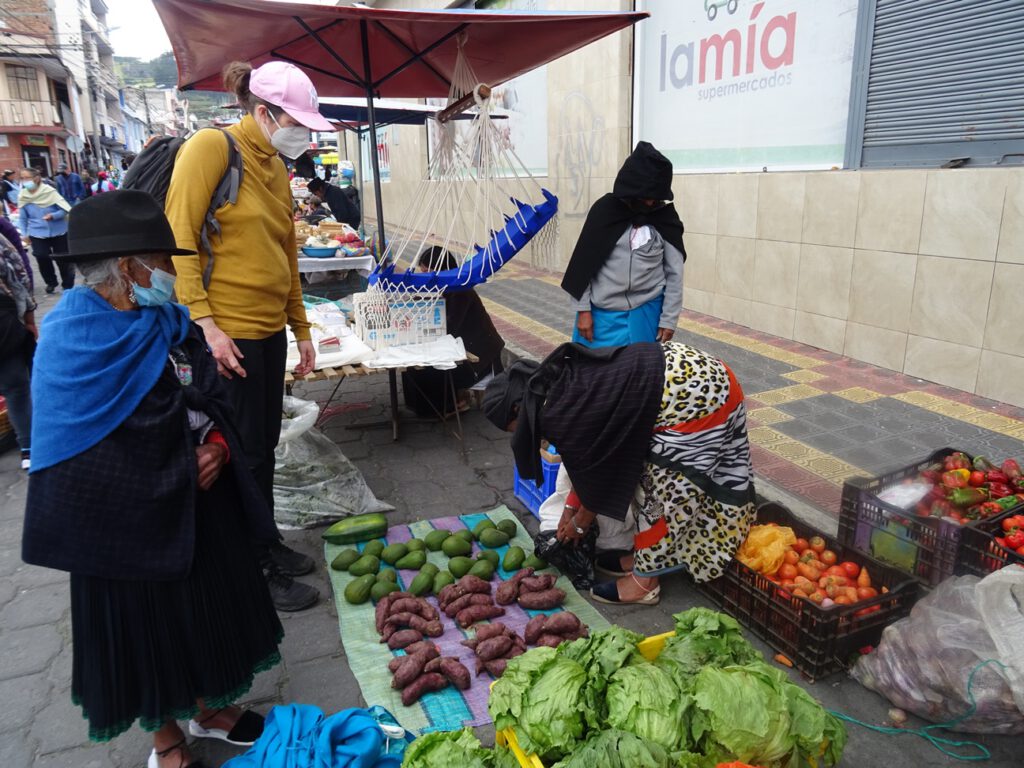 Thomas picked a handmade wool puppet, and Simon wanted beads and wire to build his own bracelets and necklaces, as he used to do in Kindergarten, to hand out as presents.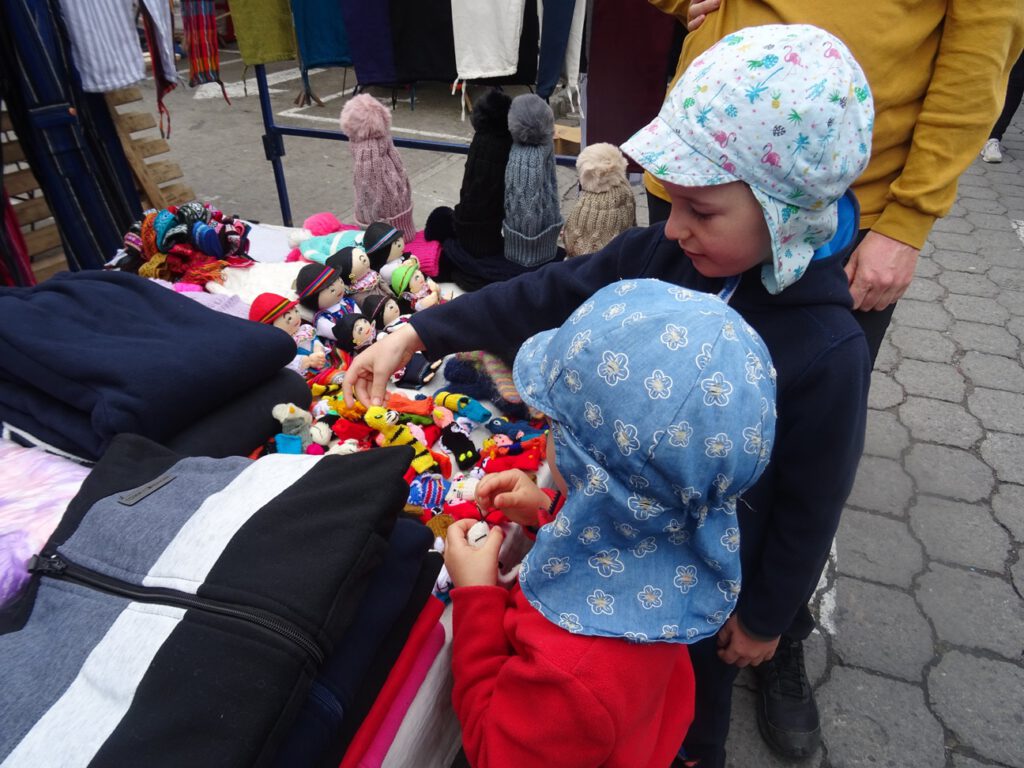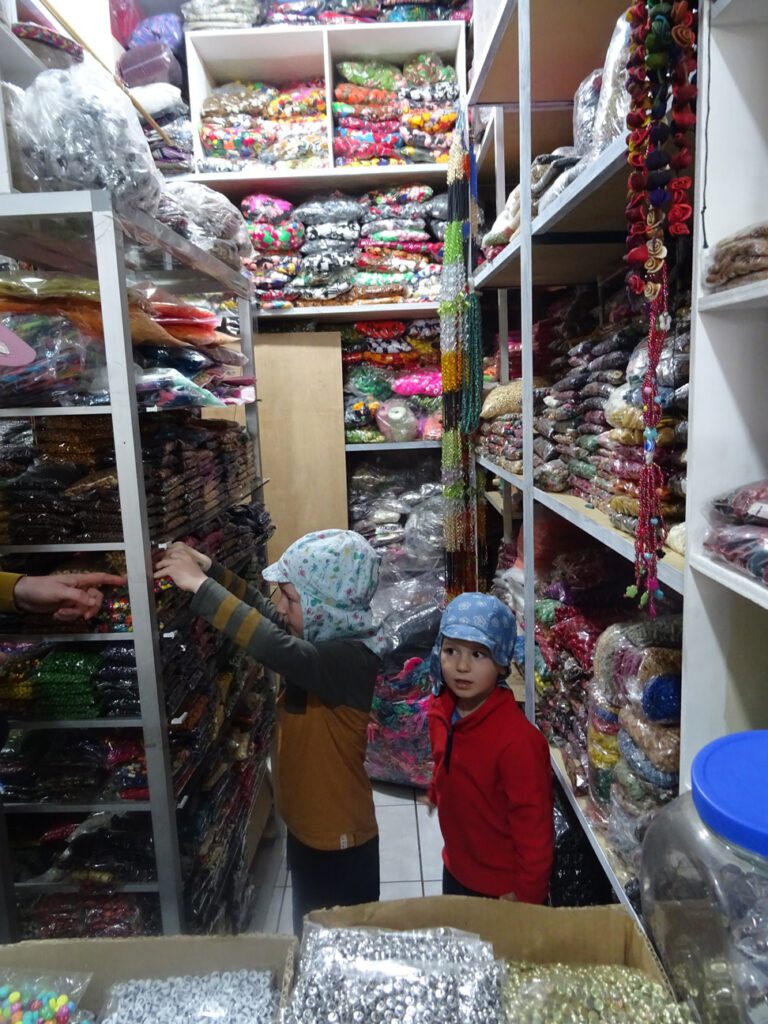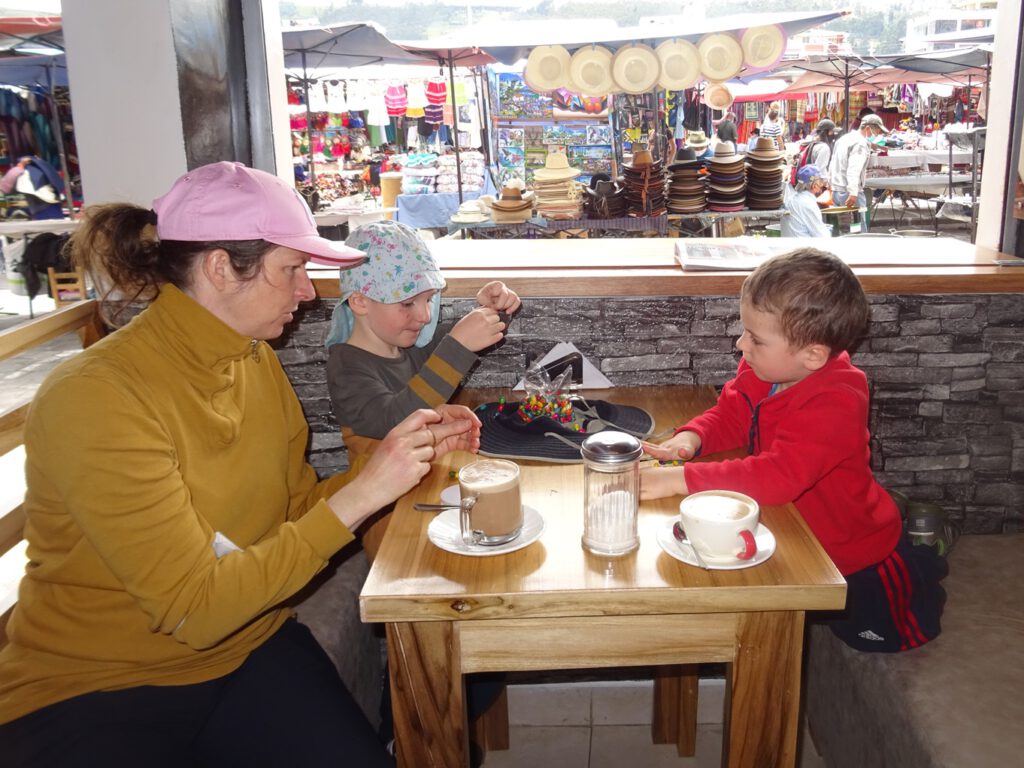 The market is not only famous for the wares being sold, but also because most people, both sellers and buyers, are indigenous to the area, and quite proud of it. The women wear some really pretty dresses with a long dark skirt (black or dark blue), espadrilles shoes, a white blouse with different colorful details, and a black scarf over it. They look really smart on them, much better than the rest of us with our "casual" wear, and it seems quite comfortable too.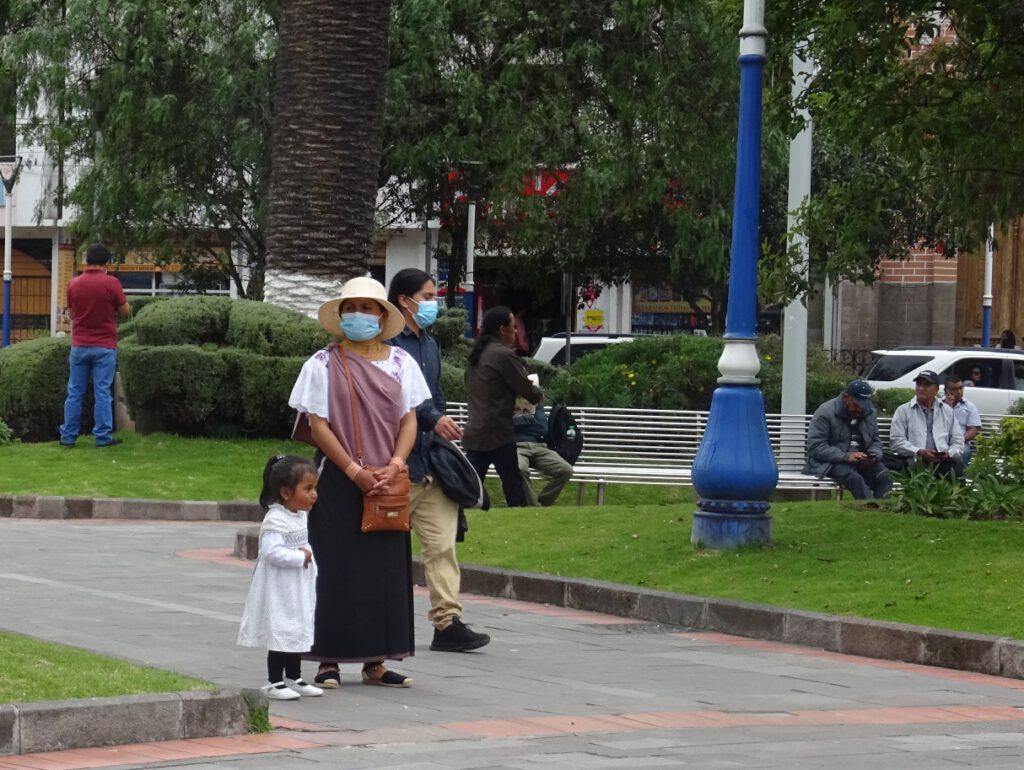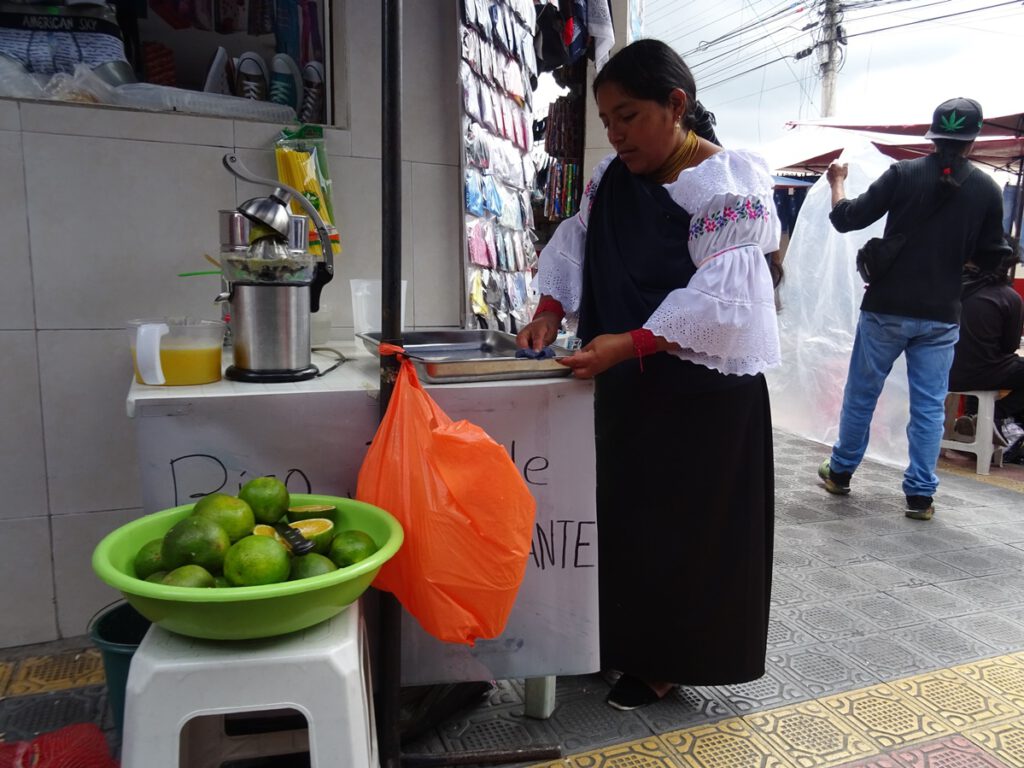 We stayed 2 days in Otavalo, and our plan is to continue cycling towards Quito.