From Ipiales to Tulcán
Internet has been bad the last few days and that's why I couldn't update the blog regularly, hopefully it will change in the coming days…
The main land border crossing between Ecuador and Colombia is in Rumichaca, a bridge south of Ipiales. The border, for COVID reasons, has been closed until just 2 months ago, reopening mid December (of course people kept crossing using alternative non legal ways, you can't stop the transit completely).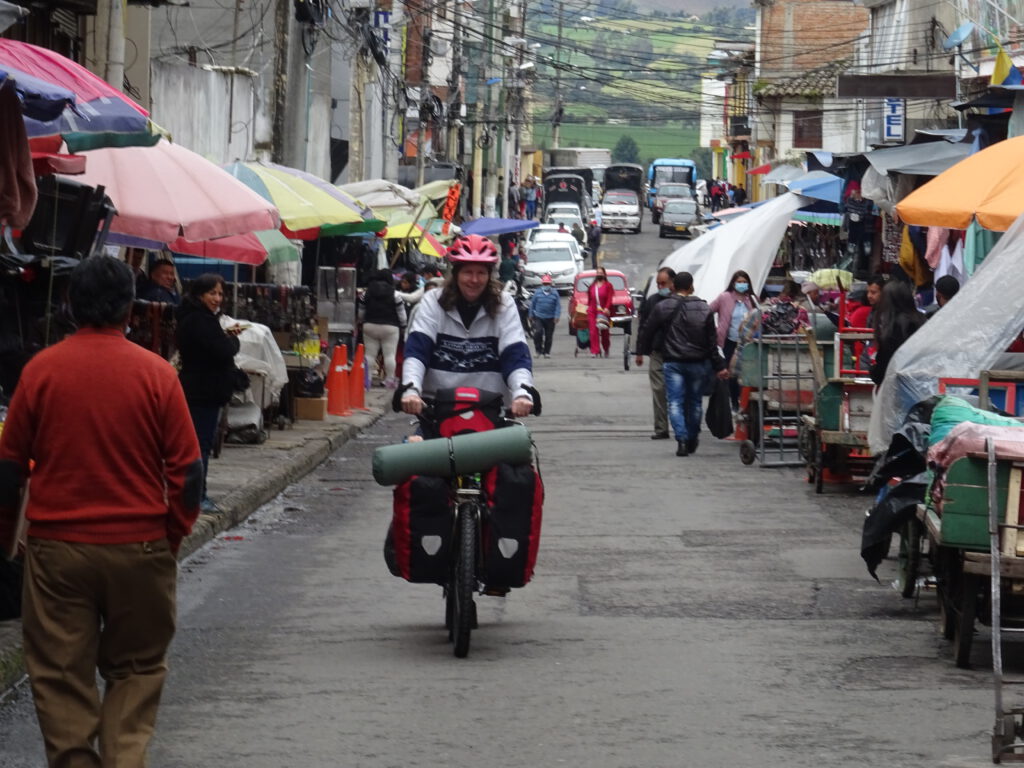 For us is a quick downhill from Ipiales, doing all the border formalities, and then a 300 mts climb back to Tulcán, the first town on the Ecuatorian site, and a transport hub thanks to its location. But first we passed by Xtreme Bike to thank its owner Rubén for the lift he gave us the previous day. Unfortunately he had to go back to Pasto and we couldn't visit him, but we talked to his brother and Susanne took the chance to buy some bike gloves. This shop is one of the best and with the better gear we have seen so far in South Colombia. I guess the big passion about cycling in the area, and the fact Ipiales is a shopping town for the Ecuatorians which benefit from a favorable exchange between dollars and pesos helps.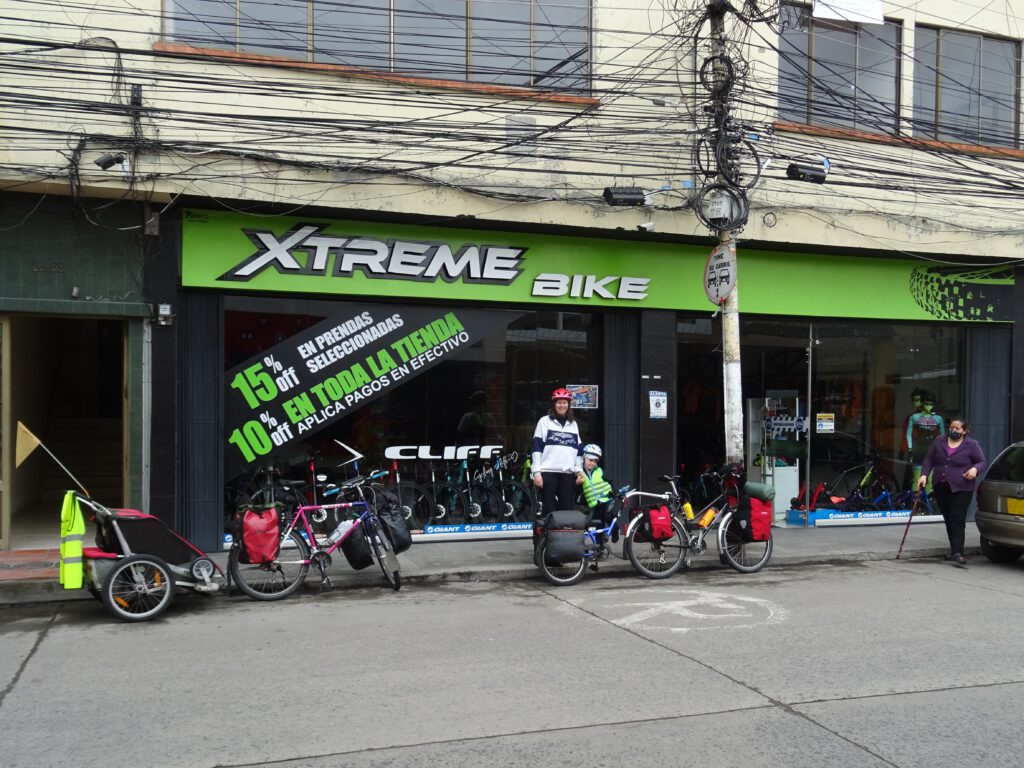 The crossing on the Colombian side was not as quick as expected. We were told we had to fill a form in the CHECK-MIG app, which is quite a painful process we had to repeat a few times until we managed to get the confirmation. Once that was done, the passport stamping was easy.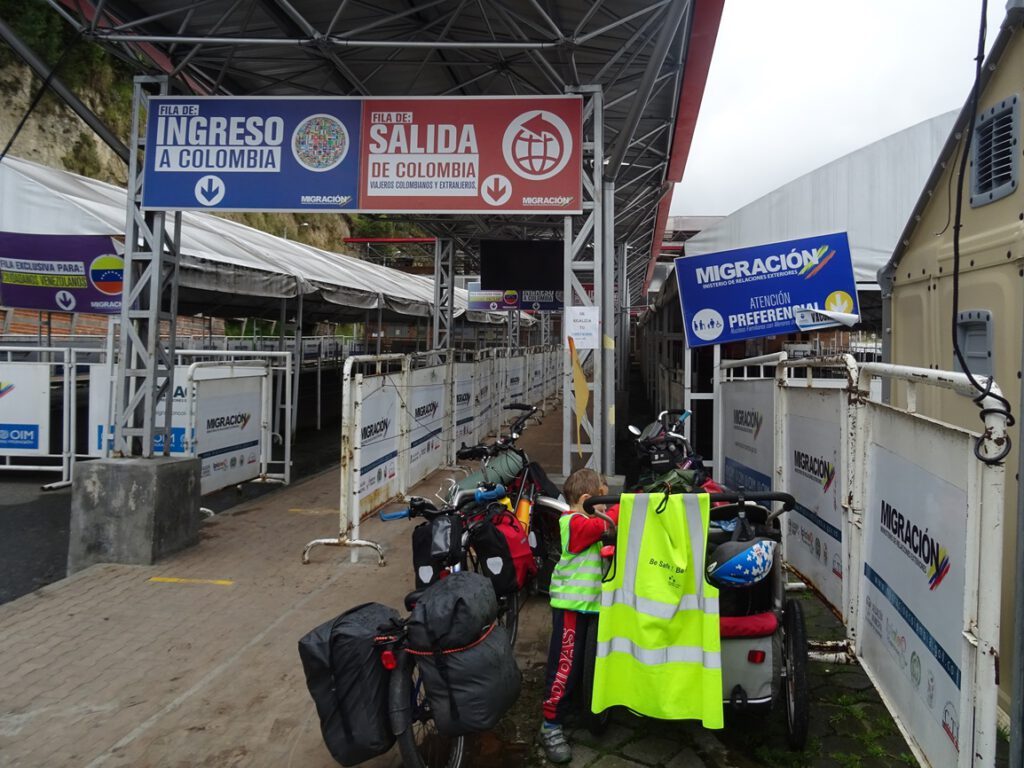 We then had to cross the bridge, where a small tent was waiting us with a couple Equatorian doctors checking vaccination IDs. We had been told the need for PCR tests had been removed, but unfortunately that applied only to the vaccinated. In Ecuador kids get (compulsory) vaccinated as soon as they are 3, but in Europe it's only voluntary and from 5 years-old onwards, so our kids are not vaccinated. When one of the staff noticed, she wanted to send us back, despite we already had the exit stamp from Colombia. Luckily another woman from inmigration felt sorry for us and said we could get through as "unidad familiar" (family group). We got our health stamp and proceed to the proper inmigration control on the other side of the bridge, where the process was straightforward and we were quickly accepted into Ecuador.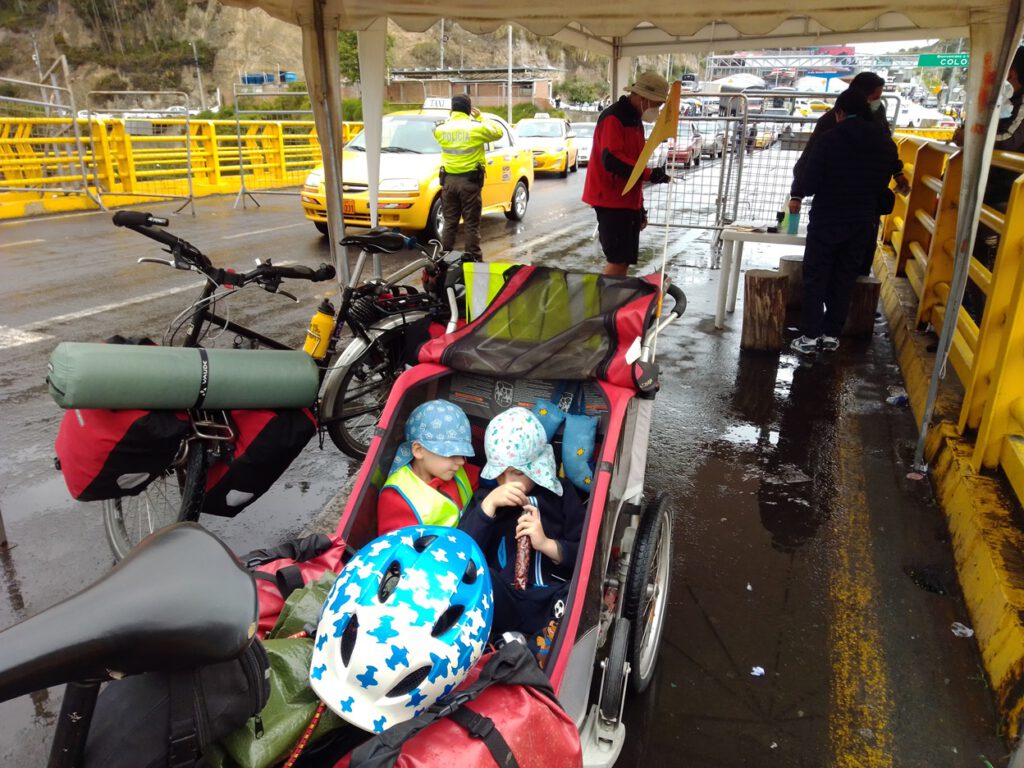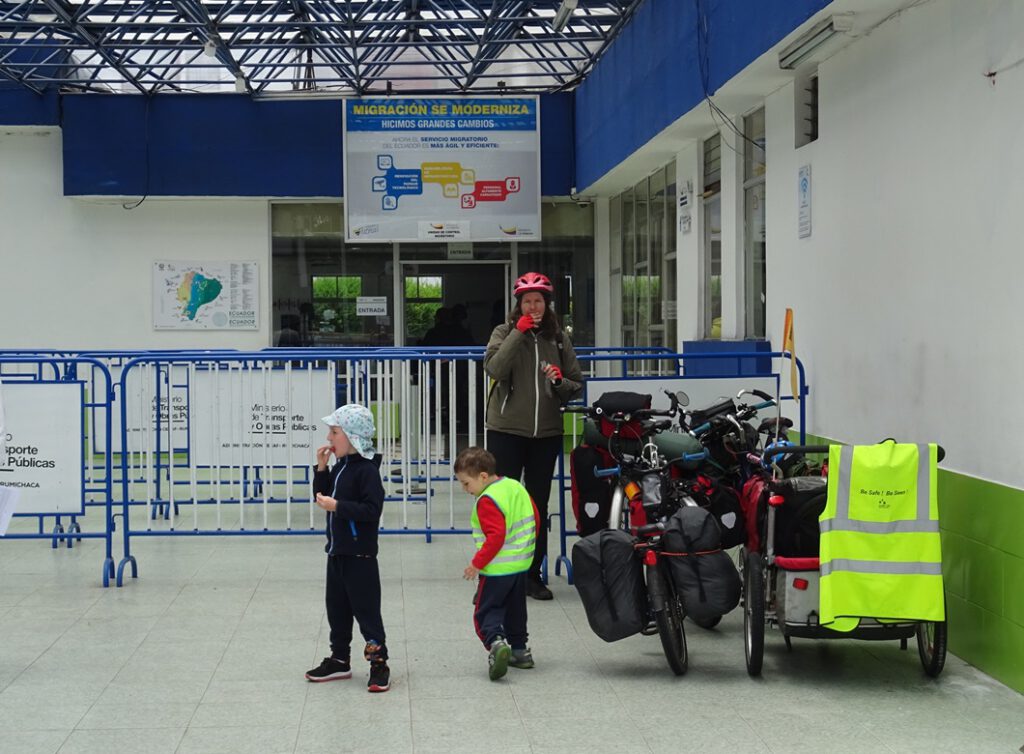 After the border there's a 6 km climb to Tulcán, nothing too steep but very continuous, on the hardshoulder of a 3 lane road. When we were in the middle of it, something strange happened. A guy stopped us in a pickup. He said he was from the Police (even though he didn't have the uniform). He then removed his jacket and he had a police shirt. He then asked to see our passports (which we had got reviewed and stamped barely minutes before) and then asked for a picture with him. So I duly took a picture of him with Susanne and the kids while he put on his official jacket, cap, and everything else. He said he was from the "tourism police" and was back from his lunch break. Whatever. I didn't dare to take a picture for myself.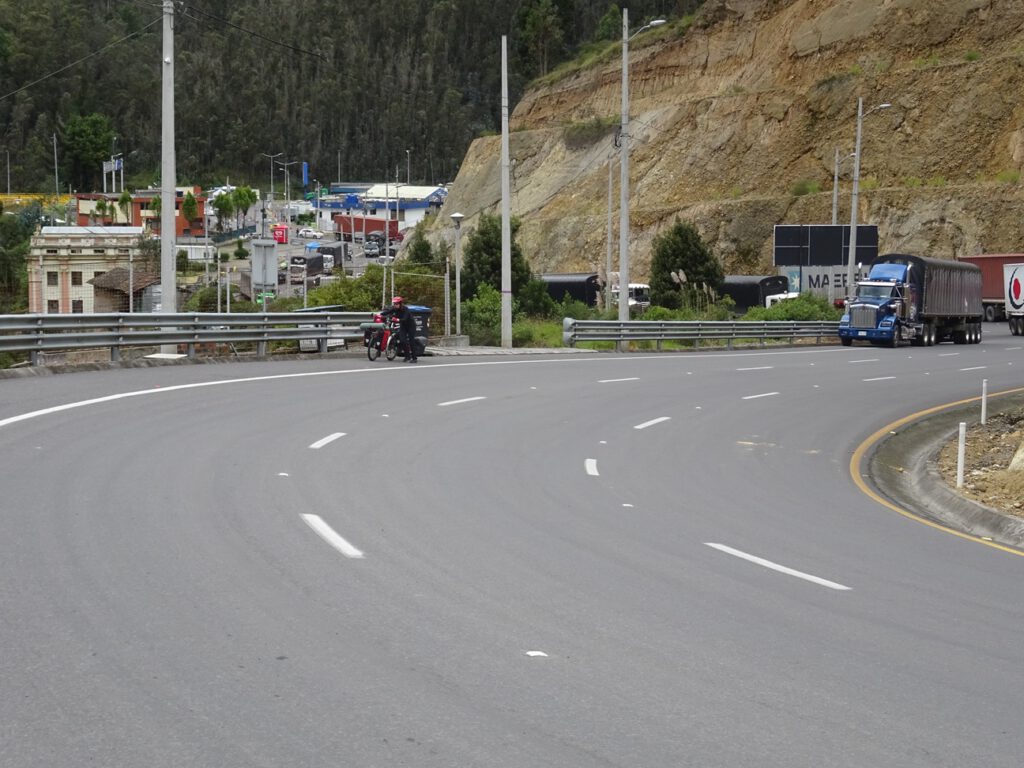 Tulcán is nothing special, a border town that most people use to take a bus further South, to Ibarra, Quito or beyond. There were even buses to Lima and Caracas!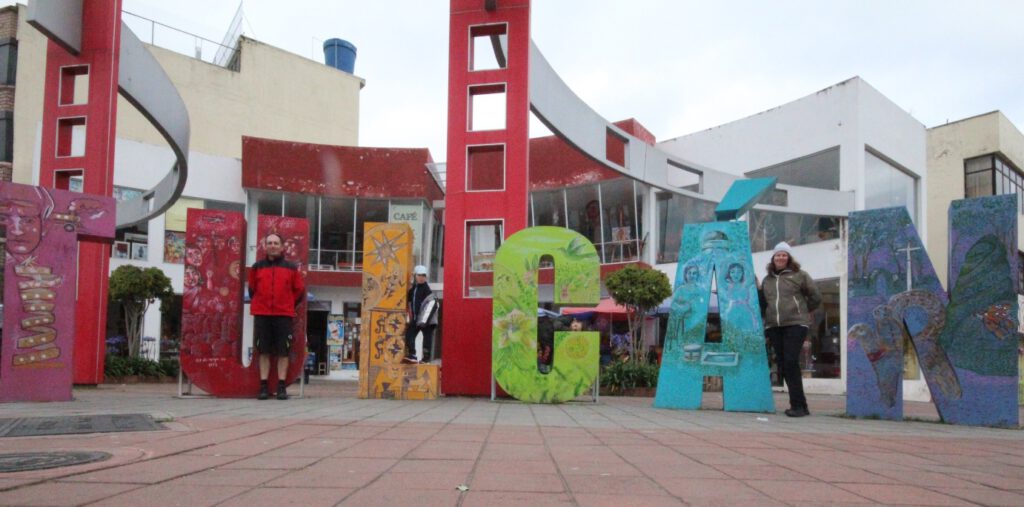 But it's quite famous for its cemetery, where the local gardeners have managed to model amazing figures with the bushes planted inside. The kids loved it, although we couldn't stay long enough because they close early, at 16:30. Definitely recommended to anyone passing nearby.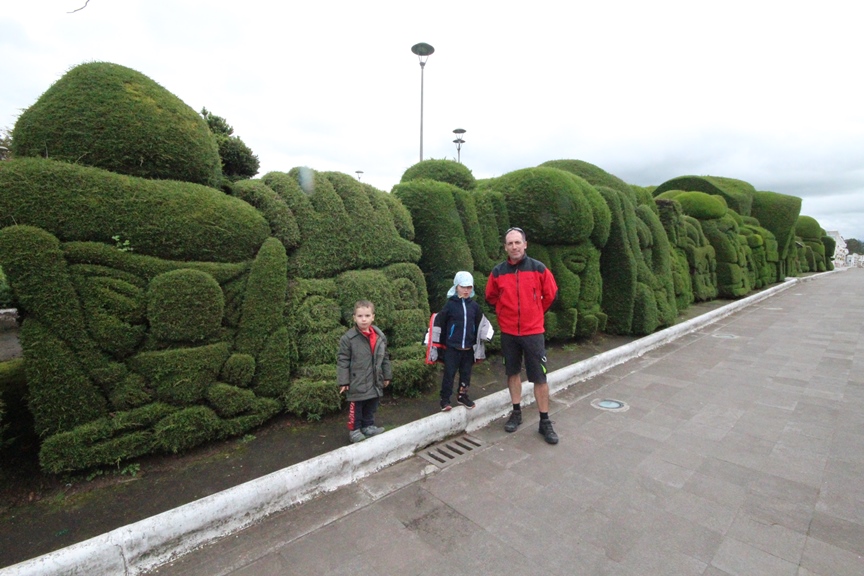 When I tried to get money out, I realised Ecuador has many financial cooperatives (for farmers, civil servants, etc) which usually don't accept foreign cards. We managed to get our money in Banco Pichincha, which is everywhere, although it charges nearly 5$ for each withdrawal. We spent the night in Hostal Florida, quite central but with a nice innen patio, easy to park our bikes. Unfortunately with cold water, and again in the highest floor with no elevator.