Our first experience at nothingness
After our short break in Santa Maria, we got ready for a tough next few days. We would first ride to Punta de Balasto, a bit below 40km from Santa Maria, for our first night. After that, we would have 80km of emptiness in the desert until we would reach Hualfin. And then, another 60 km would leave us in Belen, the next big town.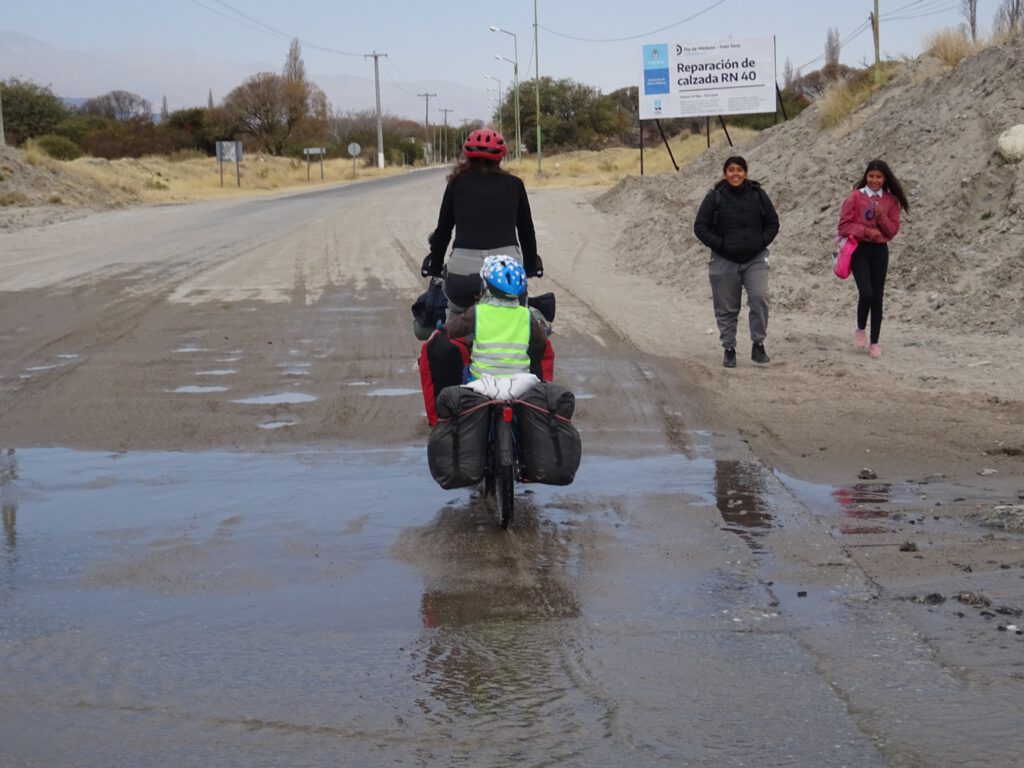 The ride to Punta de Balasto was easy, mostly flat, but since the sun didn't show up, it was really cold! Once there, the police in the village warned us against wild camping further up as it was expected to be freezing. There is however a church in this village famous among cycle travelers as it has a roof under which one can camp, plus light, plugs with electricity, and drinking water.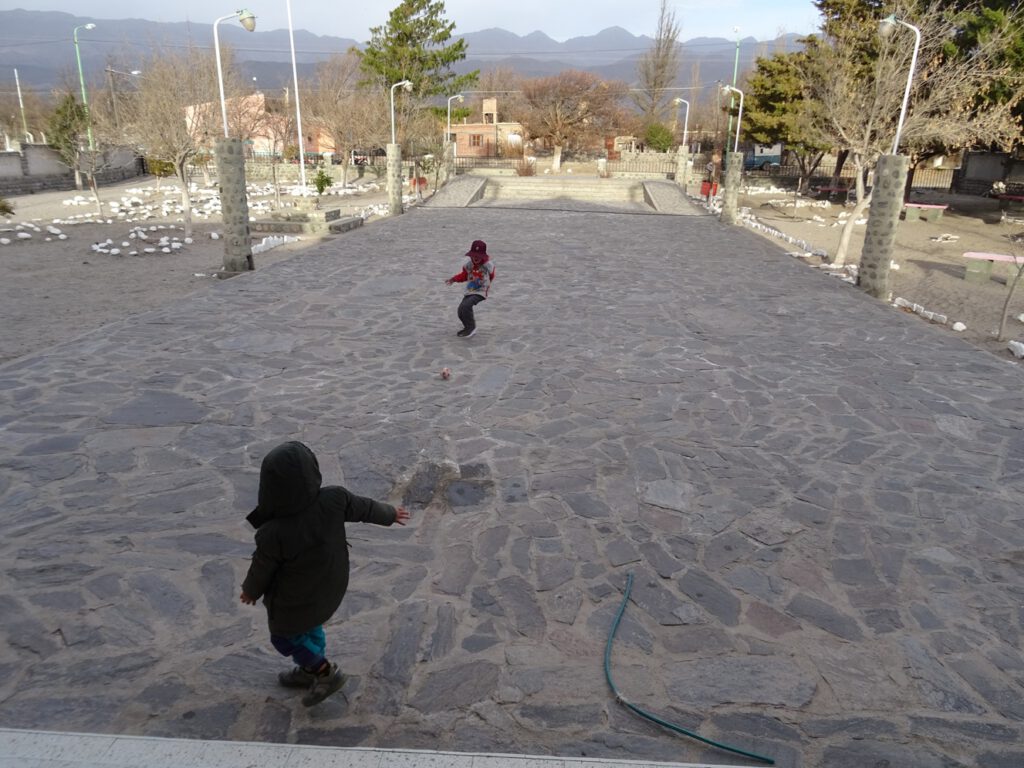 You can even catch some weak wifi signal! So we just camped there to start fresh the next day.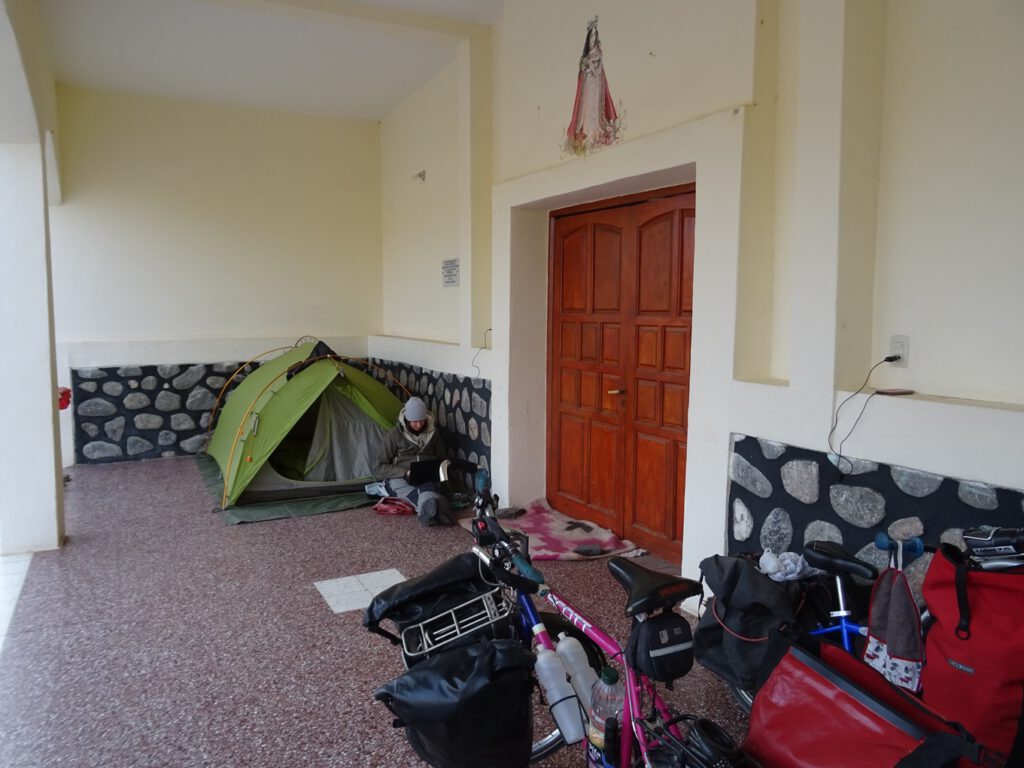 Just before dark another cyclist arrived, coming from the opposite direction, so we shared our campsite. The night was indeed cold, the coldest I remember on this trip, but we survived.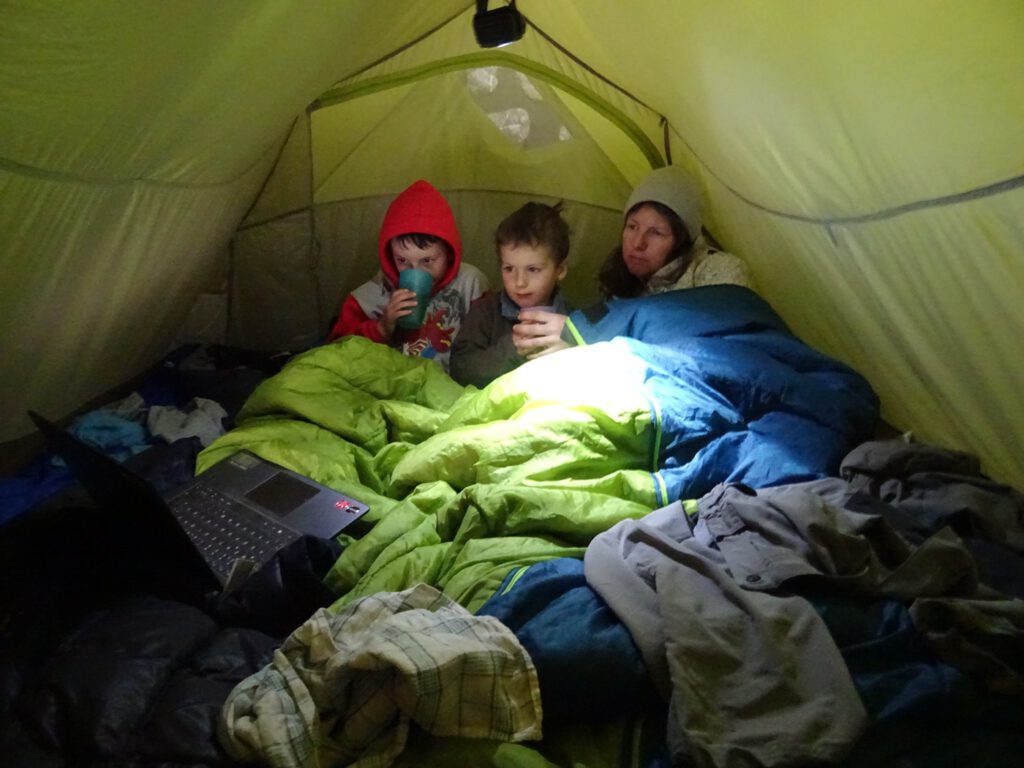 The next day we left relatively early for our standards, to cycle the 80km until the next village as soon as possible. We are in winter and days are still short, so we didn't have a lot of time.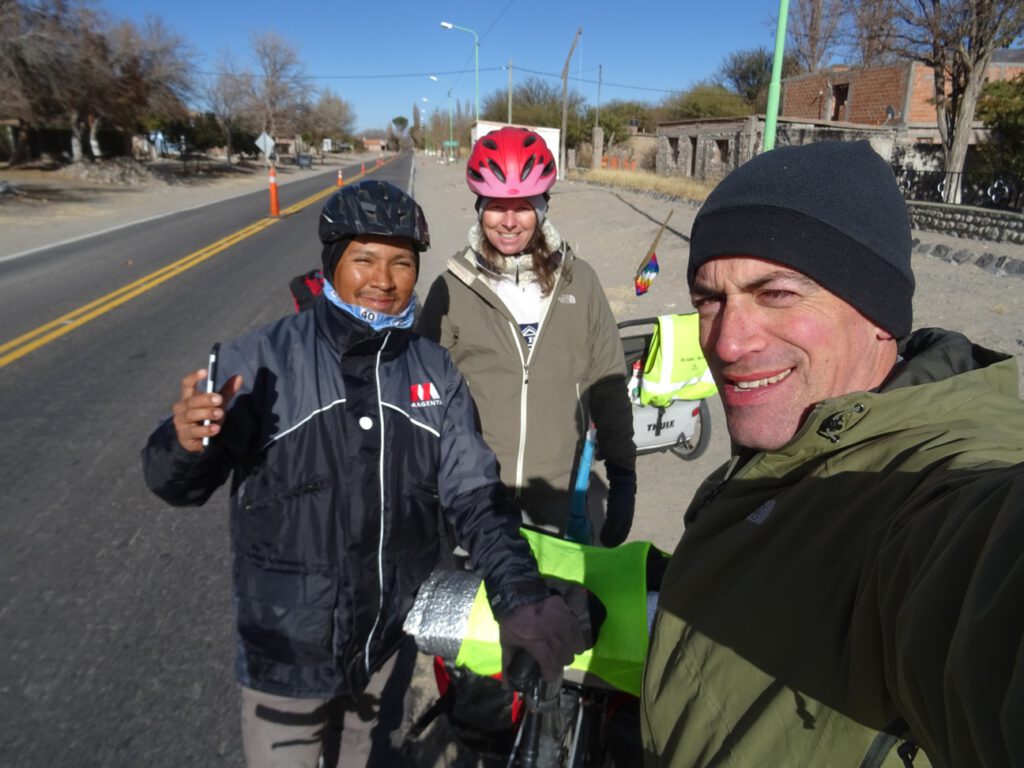 The ride was undulating at first, then a short but steep climb, and then approximately 40 km in a straight line. Amazing! You would think it was not so long, but then when the occasional car would overtake you, you could see 5 minutes later that it was still "there", not too far down the road ahead.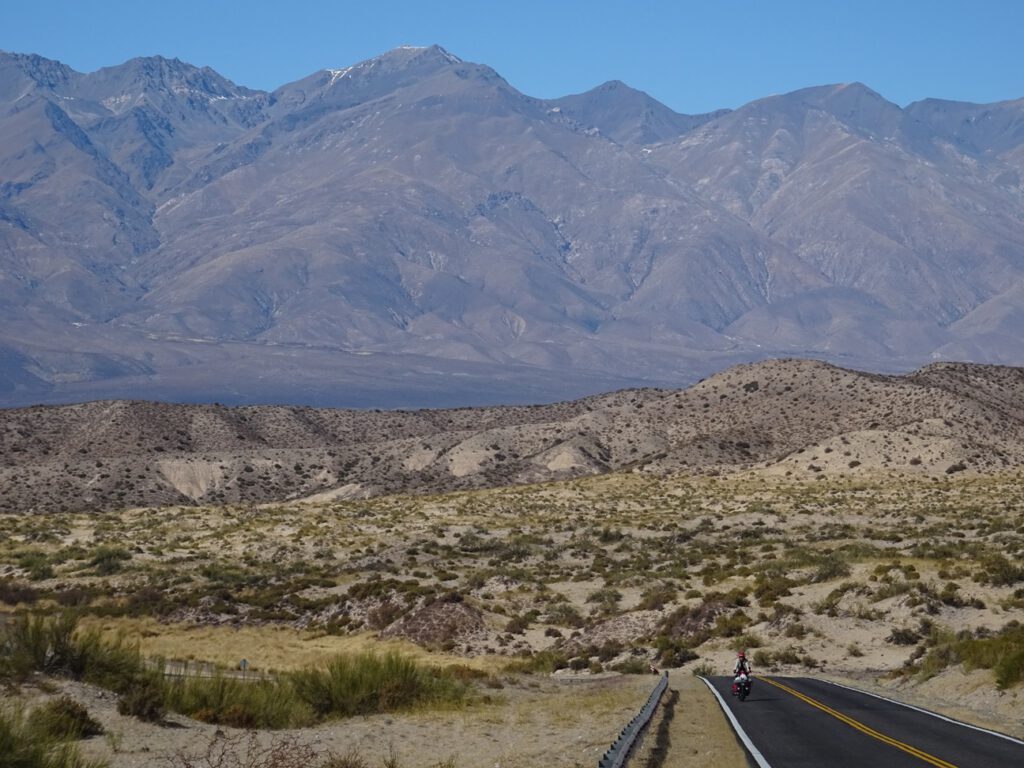 Wind was quiet most of the time, but at around 15:00 it started to blow, at the same time as our road turned south, directly against it. On top of that we had to climb a bit, so there were about 10km that were really hard on our already tired legs.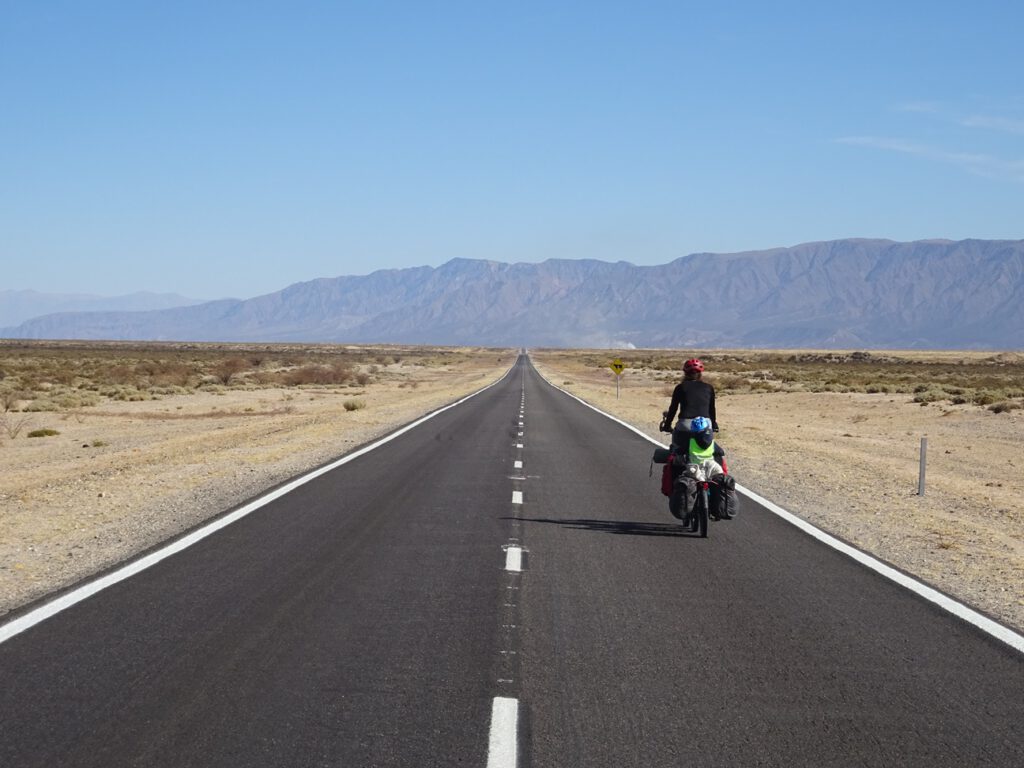 Luckily the last 10km were downhill again, across Nacimiento and then Hualfin.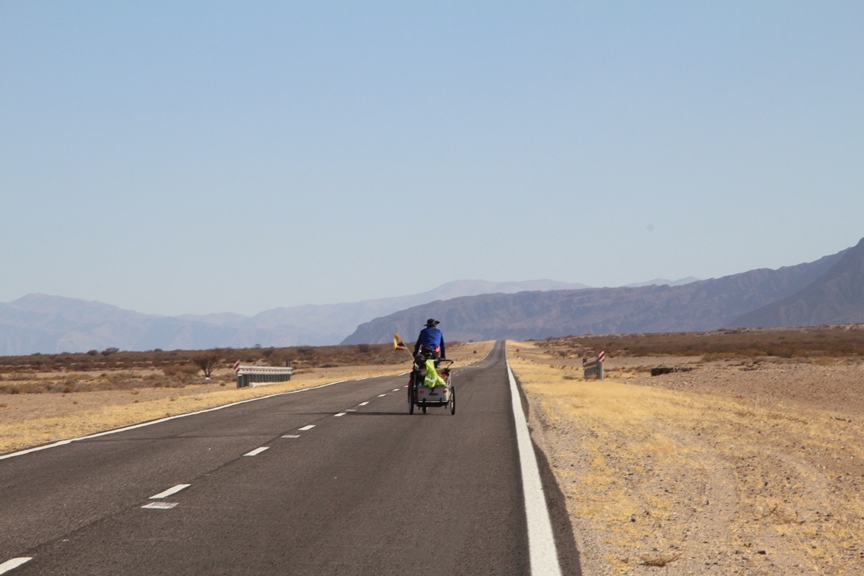 In Hualfin we did not want to camp as it was still cold and we were tired. There are only two hostels. The first one looked closed and upscale. We went to the Municipal one hoping for a good price but it was also expensive.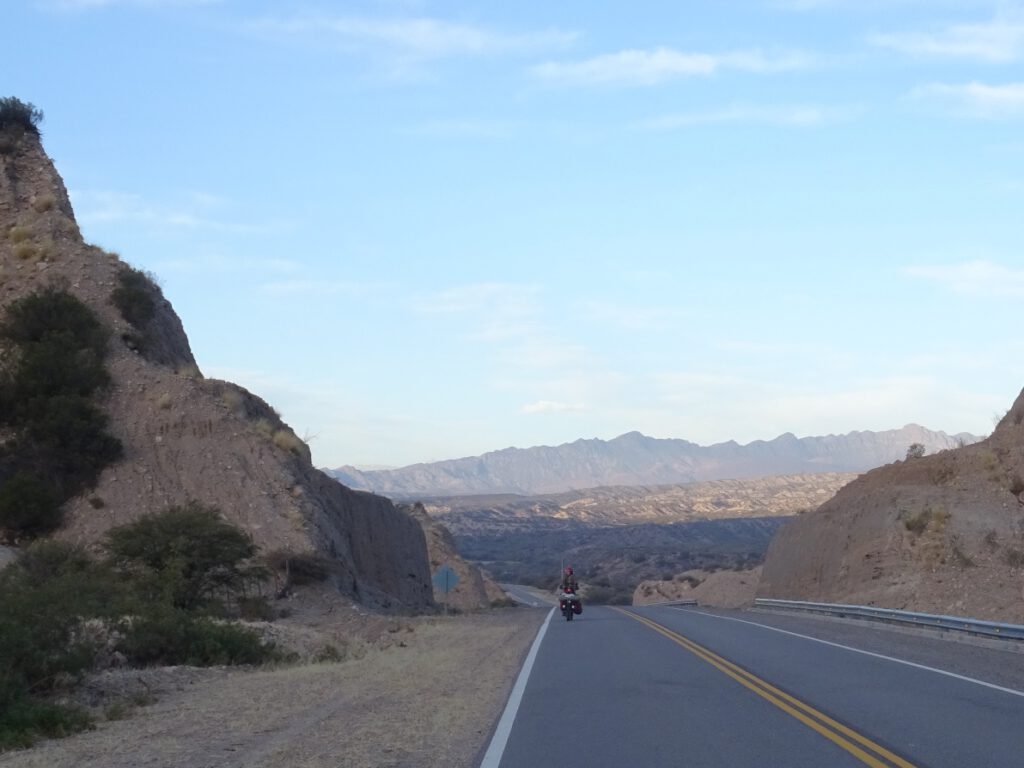 In the end we cramped into a room with only one big double bed and Susanne volunteered to sleep on one of our matresses on the floor while I slept with the kids in the bed. We made our own dinner in the room to save money.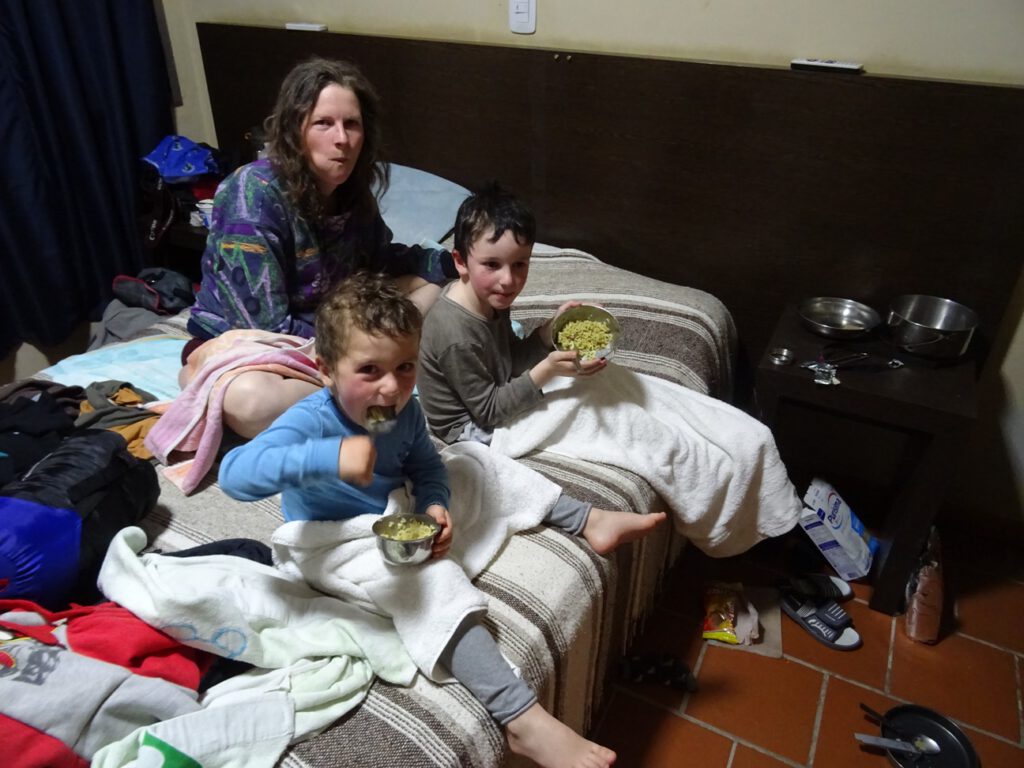 The next day would take us to Belen, the capital of the area and a big city where I could fix, again, more broken spokes in the trailer. We also crossed areas that are quite important archeologically like La Cienaga, where many ancient pottery remains have been found.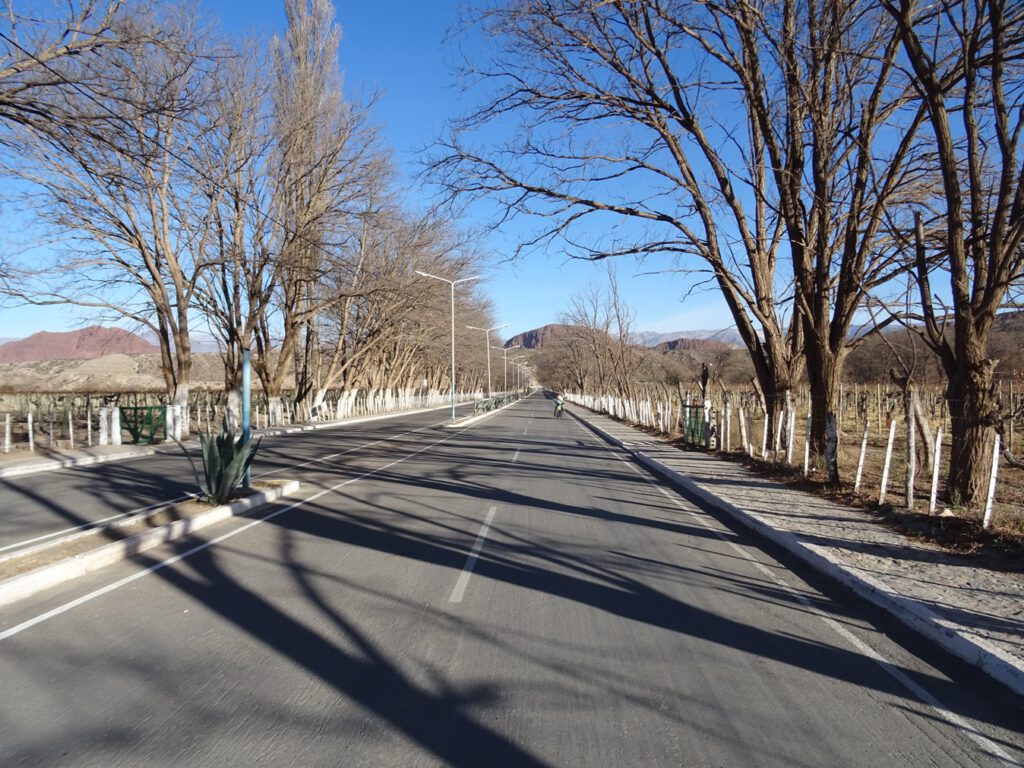 The route was quite nice, with interesting rock formations among a desert landscape. We kept riding in an open plateau with big mountains on both sides.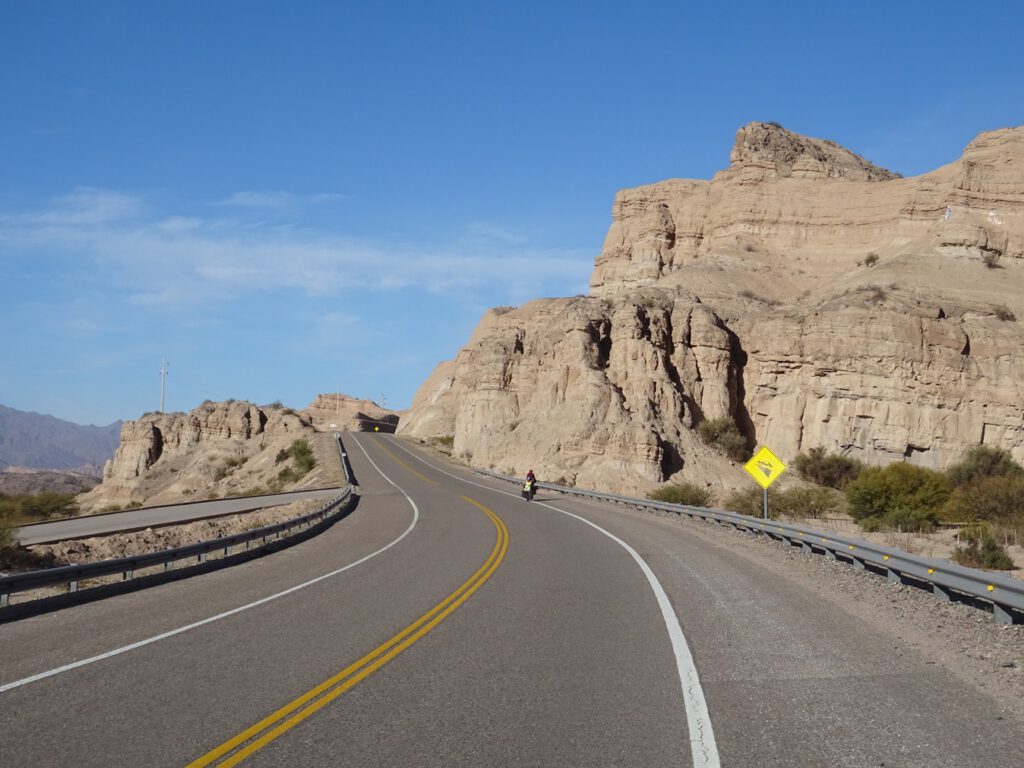 At the end, the mountains were closing in and I was wondering how we would get across. The village of Puerta de San Jose led us to a narrow gorge for the last 10 km of the day, and this was the low moment of our ride. The wind coming from further down was being funneled through this gorge and it was against us and extremely strong.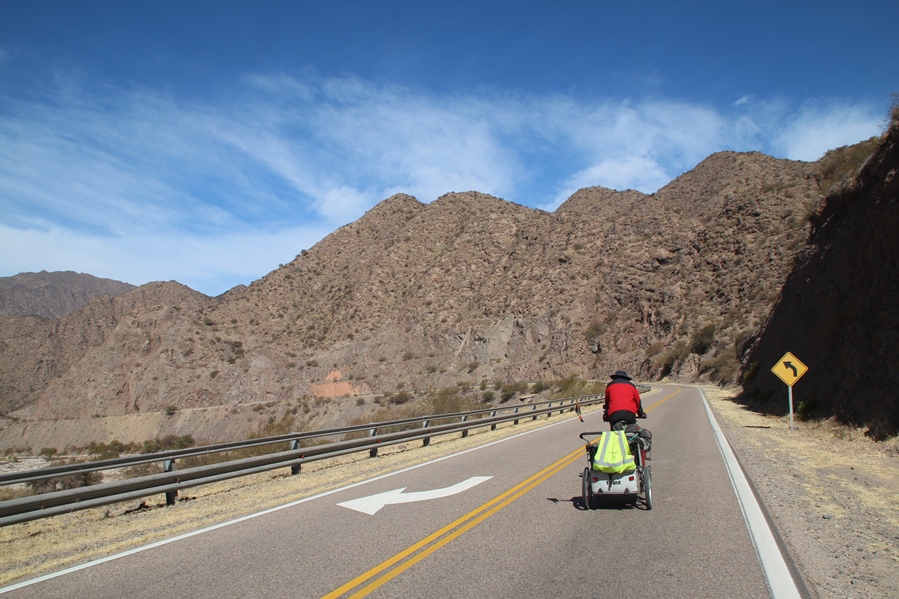 To make things worse, traffic had picked up and the wind was throwing us against the cars. There was a moment when Susanne and Simon fell of the bike, luckily very slowly, but Simon was scared, so they kept walking.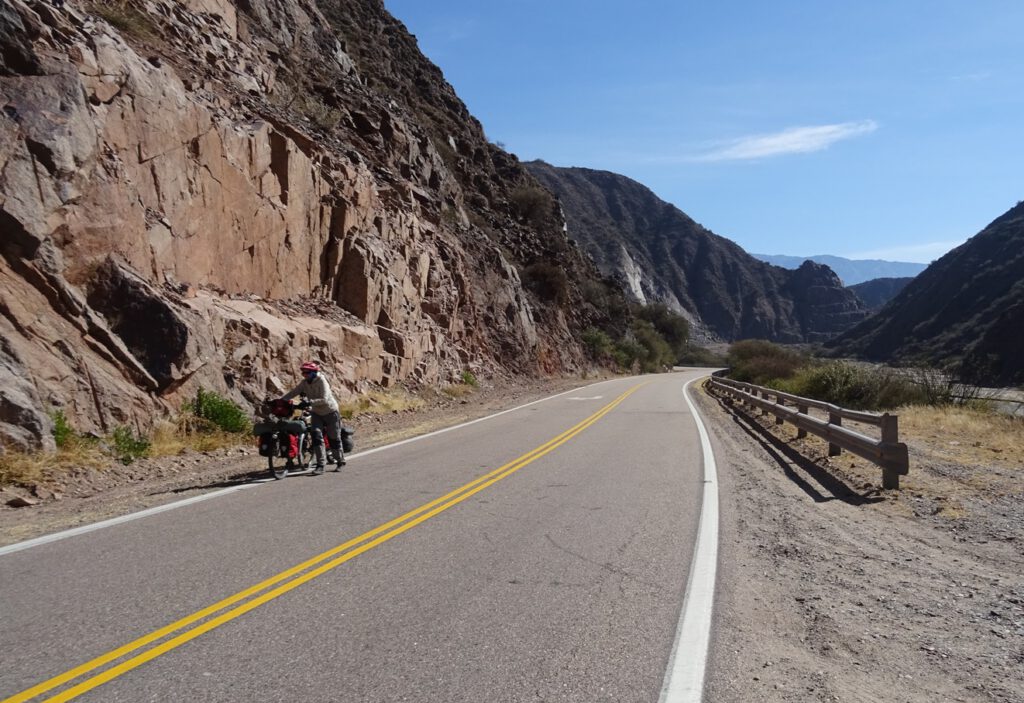 I was riding so close to the edge of the road that I got a puncture in the trailer, so I stopped further ahead to swap the tubes. After that, the gorge opened slightly and the wind slowed down a bit so we could do the last 5 km riding.
In Belen we looked for a place for lunch but it was already too late and most were closed. Luckily we found a cafe with open kitchen, but we could not have a coffee afterwards because the crew serving coffee would only start at 17:00. We also struggled to get money as the local Western Union agent was closed for siesta time.
We were then looking for the camping when, cycling down one of the main town roads, we saw an accommodation that looked both simple but well cared, so we stopped to ask. In the end we got a great deal with a very nice family so we stayed there, in a nice and warm room with an attached kitchen.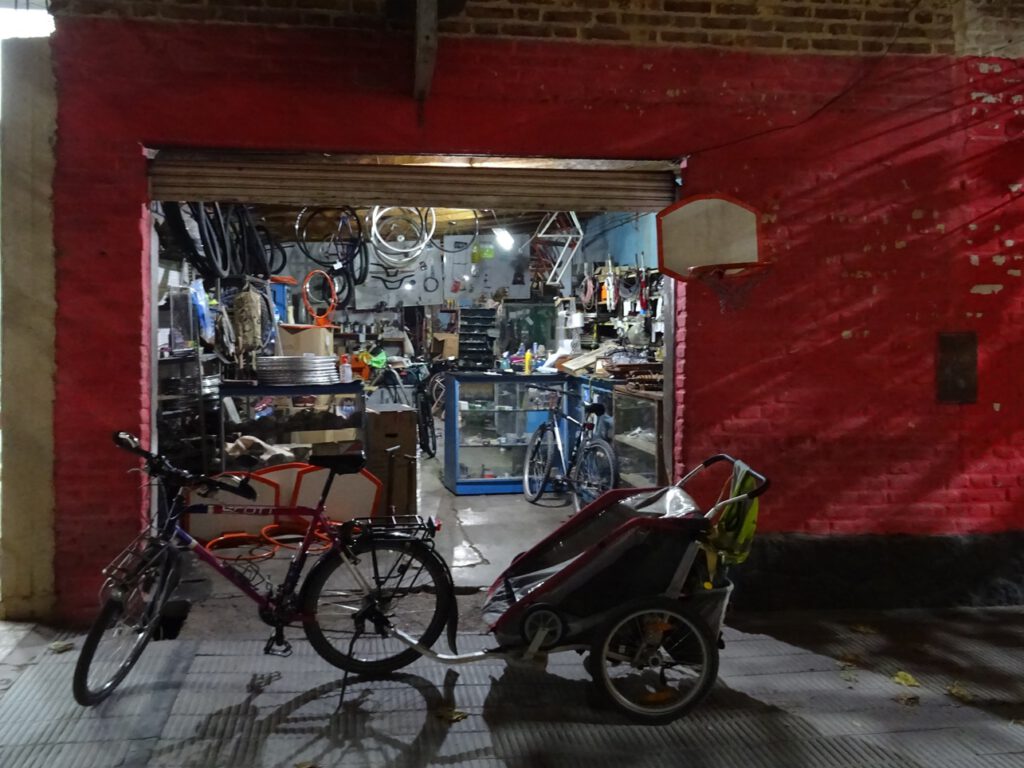 I took the broken wheel to a nearby shop and the guy was very professional, fixing it for very little money in less than an hour. I also bought a cheap speedometer for Susanne.
Remember you can receive notifications by email every time there is a new post just by subscribing on the box in the sidebar (or below if reading on a portable device). We have also created an Instagram account at @utilitariancycling